Buying apartment in Aventura
Buying apartment in Aventura Miami. A simple guide for those intrested in property in Miami Aventura area. Welcome to Aventura, Miami's thriving and vibrant neighborhood that beckons you with its enchanting charm and promises an exceptional lifestyle. Nestled along the beautiful coastline of South Florida, Aventura is not only a place to call home but also an enticing property investment hotspot that offers endless opportunities for growth and prosperity.
As you embark on your journey to move from another part of the USA, picture yourself stepping into a world where the sun-drenched skies meet the shimmering waters of the Atlantic Ocean. Aventura, often referred to as the "City of Excellence," is a haven for those seeking luxury, leisure, and a refined cosmopolitan lifestyle.
Great place to own a property in Florida
One of the crown jewels of Aventura is the renowned Aventura Mall, a paradise for shopaholics and fashion enthusiasts. This sprawling retail destination boasts an impressive collection of high-end boutiques, designer stores, and flagship brands that will surely satisfy even the most discerning taste. Imagine strolling through its grand corridors, passing by names like Gucci, Louis Vuitton, and Chanel, while indulging in the latest fashion trends.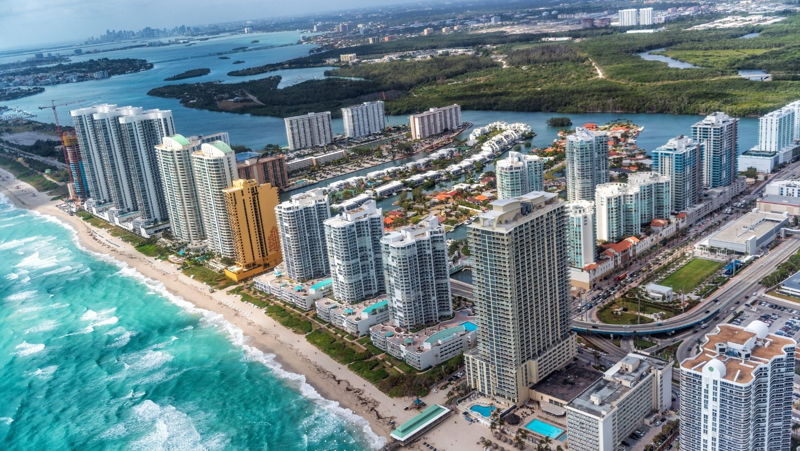 For those who appreciate fine art and culture, the Aventura Arts & Cultural Center is a true delight. This state-of-the-art venue hosts an array of performances, including theater productions, musical concerts, and captivating art exhibitions. As you immerse yourself in the cultural experiences offered here, you'll feel a profound sense of inspiration and creativity that will invigorate your soul.
Morning jog in Aventura
Aventura is not just about shopping and culture; it also offers a plethora of outdoor recreational opportunities. Imagine enjoying a morning jog along the picturesque Aventura Circle, a scenic three-mile path that winds its way through the heart of the neighborhood. As you breathe in the fresh ocean air, you'll be captivated by the stunning views of the Intracoastal Waterway and the majestic yachts gracefully sailing by.
If you're an avid golfer, you'll be delighted to discover the legendary Turnberry Isle Miami. This world-class golf resort boasts two championship courses, designed by renowned golf architect Raymond Floyd. Picture yourself teeing off amidst lush green fairways, surrounded by serene water features and majestic palm trees. The sight of the iconic Mediterranean-style clubhouse will remind you of the prestigious heritage and opulence that Aventura embodies.
Property investment in Aventura
When it comes to property investment, Aventura presents a wealth of opportunities. With its strategic location, robust economy, and constant demand for luxury real estate, this neighborhood has become a prime destination for investors seeking substantial returns. The Turnberry Ocean Club Residences, a striking 54-story tower, and the sleek and modern Echo Aventura are just a few examples of the remarkable residential developments that grace the skyline.
As you consider investing in the Aventura property market, envision the luxurious Florida lifestyle that awaits you. Picture yourself residing in a lavish waterfront condominium, such as the Prive at Island Estates, where panoramic views of the ocean and bay become your daily backdrop. The amenities offered by these prestigious communities are unparalleled, with private marinas, world-class spas, and gourmet dining experiences that cater to your every desire.
Close to Miami
Moreover, Aventura's central location provides easy access to the vibrant city of Miami, where you can indulge in its diverse culinary scene, pulsating nightlife, and world-renowned cultural attractions. Whether you're seeking a tranquil retreat or an exciting urban adventure, Aventura seamlessly combines the best of both worlds.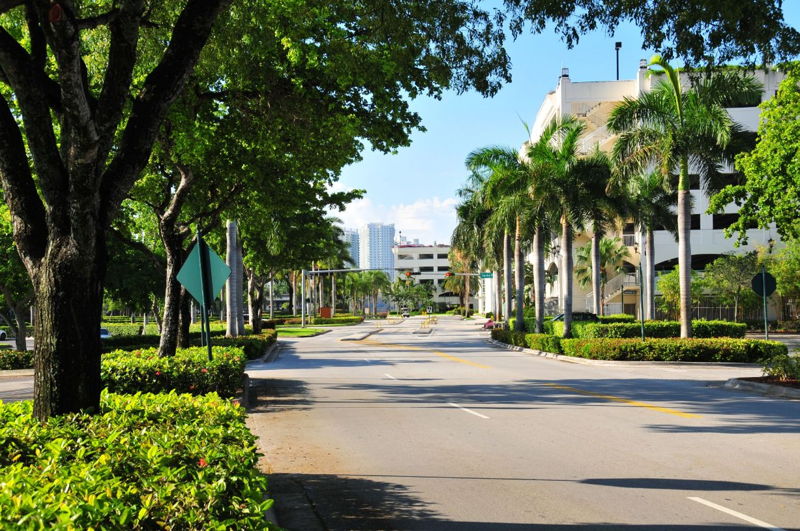 Aventura beckons you with its alluring blend of luxury, leisure, and investment potential. As you make the bold decision to move here from another part of the USA, envision yourself immersed in the captivating ambiance of Aventura, where the possibilities for growth and prosperity are boundless. With its iconic buildings and estates, such as the Aventura Mall, Turnberry Isle Miami, and the exclusive residential developments, Aventura invites you to experience a life of elegance and fulfillment that will inspire you every step of the way.
---
Where to buy apartment in Aventura Miami
In Aventura, there are several prestigious estates that are highly sought-after. These estates exemplify the epitome of luxury living in Aventura, offering an array of amenities and services that cater to the discerning tastes of residents. Each of these addresses represents a unique opportunity to immerse yourself in the sophisticated and vibrant lifestyle that Aventura has to offer. Here are some of the most important and notable estates in the area:
Porto Vita
Located at 19955 NE 38th Court, Porto Vita is an exclusive and luxurious community consisting of two towers, South Tower and North Tower. With breathtaking views of the Intracoastal Waterway and the Atlantic Ocean, Porto Vita offers a wealth of amenities, including a private marina, world-class spa and fitness facilities, tennis courts, and exquisite dining options.
Williams Island
Situated at 5300 Island Blvd, Williams Island is a private island community known for its lavish residences and resort-style amenities. The island features several high-rise towers, such as Bellini Williams Island, Prive at Island Estates, and Residence du Cap, offering panoramic views of the water and city skyline. Residents enjoy access to a marina, a state-of-the-art spa, tennis courts, restaurants, and a championship golf course.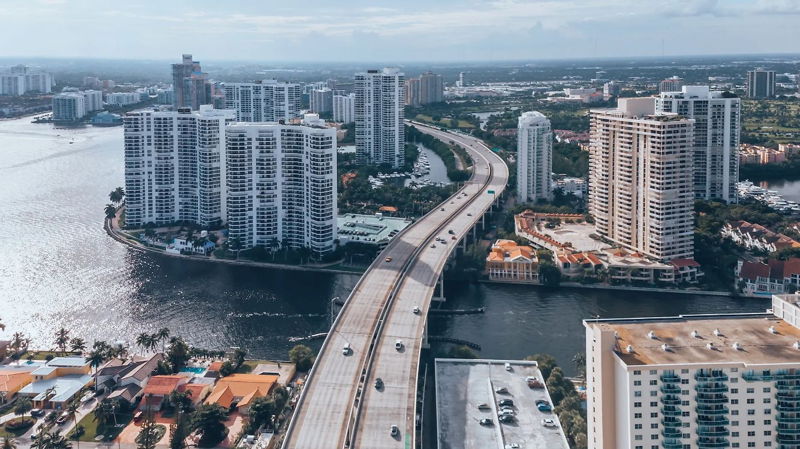 Turnberry Ocean Colony
Located at 16047 Collins Avenue, Turnberry Ocean Colony is a pair of luxurious oceanfront towers. Offering unparalleled elegance and privacy, these towers feature spacious residences with stunning ocean views. The amenities include a private beach club, gourmet dining, a world-class spa, fitness centers, and concierge services.
Echo Aventura
Found at 3250 NE 188th Street, Echo Aventura is a contemporary residential tower designed by Carlos Ott. Known for its sleek architecture and sophisticated interiors, Echo Aventura offers spacious residences with private terraces, smart home technology, and panoramic water views. The building features a waterfront infinity-edge pool, a fitness center, a spa, and a concierge service.
Prive at Island Estates
Situated on an exclusive private island at 5000 Island Estates Drive, Prive is an ultra-luxury residential complex offering expansive residences with panoramic water views. The development features exceptional amenities, including a private marina, a tennis court, a fitness center, a spa, multiple pools, and a private beach.
---
We are real estate agents selling homes in Aventura
Are you still looking for realtor in Aventura? Just give us a call! As real estate agents in Aventura, our work revolves around helping clients navigate the dynamic and competitive real estate market in the area. Our primary goal is to provide exceptional service, guidance, and expertise to buyers, sellers, and investors looking to make property transactions in Aventura.
Here's a breakdown of the key aspects of our real estate agent's work in Aventura:
Market Knowledge: Aventura is a diverse and rapidly evolving market, and as a real estate agent, you need to stay up-to-date with the latest market trends, property values, and new developments. This knowledge allows you to provide accurate and informed advice to your clients, helping them make sound decisions.

Client Consultation: When working with clients, your first step is to understand their needs, preferences, and budget. You'll conduct detailed consultations to identify their specific requirements, whether they're looking for a primary residence, a vacation home, or an investment property. This information will guide your search and enable you to present suitable options to your clients.

Property Search and Evaluation: Armed with client criteria, you'll conduct a comprehensive search of available properties in Aventura. You'll evaluate listings, consider factors like location, amenities, price, and potential for appreciation, and curate a selection of properties that match your clients' requirements. You'll arrange property showings, highlighting key features and benefits to help clients make informed decisions.

Listing and Marketing: If you're representing sellers, you'll assist them in preparing their property for listing. This includes advising on staging, professional photography, and creating compelling listing descriptions. You'll develop targeted marketing strategies to reach potential buyers, utilizing online platforms, social media, print media, and your professional network to maximize exposure for the property.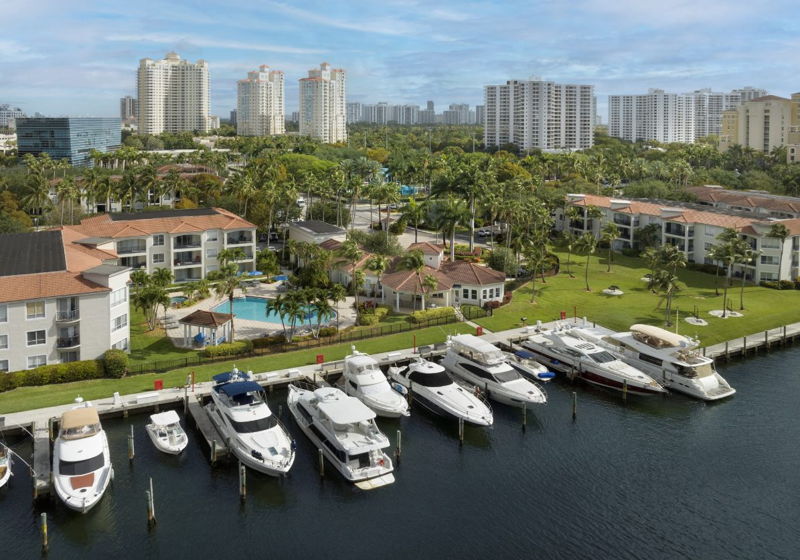 Negotiation and Transaction Management: As offers are presented, you'll act as a skilled negotiator, representing your client's best interests to secure favorable terms and prices. You'll handle all the paperwork and documentation required for the transaction, ensuring compliance with legal and regulatory requirements. Coordinating with lenders, inspectors, appraisers, and attorneys, you'll manage the transaction process, ensuring a smooth and efficient closing.

Client Support and Communication: Throughout the process, you'll provide ongoing support and communication to your clients. You'll address their questions and concerns promptly, keeping them informed at every stage of the transaction. Clear and transparent communication builds trust and fosters positive client-agent relationships.

Continued Education and Professional Development: Aventura's real estate market is dynamic and ever-changing. As a real estate agent, you'll invest in ongoing education and professional development to stay ahead of industry trends, sharpen your skills, and maintain your real estate license. This allows you to provide the best possible service to your clients and adapt to market fluctuations.
By diligently performing these tasks and offering exceptional service, you can build a strong reputation as a trusted and reliable real estate agent in Aventura. Your work contributes to helping individuals and families find their dream homes, assisting investors in making sound financial decisions, and contributing to the growth and development of this vibrant community.
Try us! Give us a call if you want to list your property or to sell your condo in Aventura!