Hollywood Florida best beaches
Hollywod Florida - a guide to the best beaches in the area. Nestled along the pristine coastline of South Florida, Hollywood emerges as a hidden gem for beach enthusiasts seeking a perfect blend of sun, sand, and serenity. With its breathtaking beaches, Hollywood offers a haven for those yearning to escape the hustle and bustle of everyday life. So, grab your sunscreen, towel, and adventurous spirit as we embark on a journey to explore the best beaches Hollywood has to offer.
Hollywood, Florida is a coastal paradise brimming with spectacular beaches that cater to every beach lover's desires. Whether you seek solitude in nature, an action-packed adventure, or simply a place to unwind and rejuvenate, Hollywood has it all. From the lively Hollywood Beach to the serene Dania Beach and the adventure-filled John U. Lloyd Beach State Park, this coastal haven offers an abundance of coastal treasures waiting to be explored.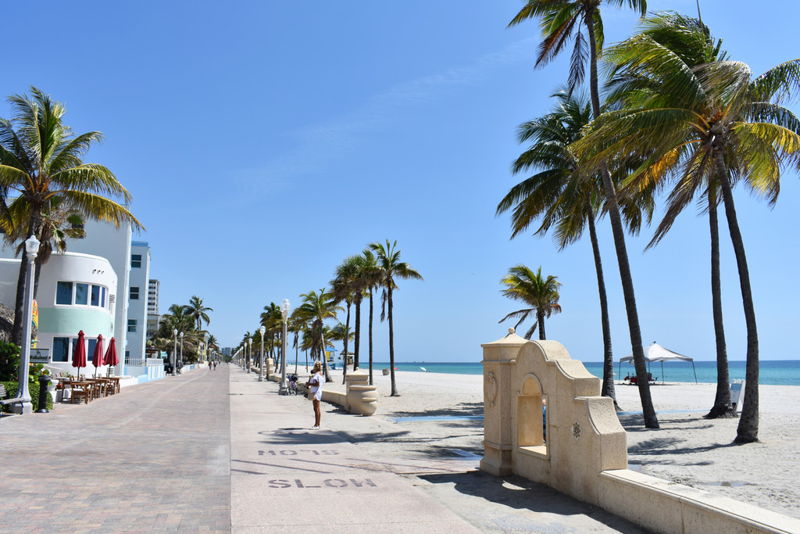 Hollywood Beach
Our adventure begins with the crown jewel of Hollywood, aptly named Hollywood Beach. Known for its pristine white sands stretching for miles, this beach provides an idyllic setting for both relaxation and recreation. Whether you're basking in the sun, strolling along the lively boardwalk, or taking a refreshing dip in the turquoise waters, Hollywood Beach offers a slice of paradise for every visitor.
North Beach Park
For nature enthusiasts seeking a tranquil oasis, North Beach Park is an absolute must-visit. Tucked away from the bustling city life, this hidden gem offers a pristine shoreline bordered by lush greenery. Take a leisurely walk along the nature trails, marvel at the diverse coastal wildlife, or simply unwind under the shade of swaying palm trees. North Beach Park is the ideal retreat for those seeking solace in the lap of nature.
John U. Lloyd Beach State Park
Continuing our journey, we arrive at John U. Lloyd Beach State Park, a true haven for outdoor enthusiasts. As you step foot on this beach, you'll be greeted by panoramic views of unspoiled landscapes and crystal-clear waters. With ample opportunities for fishing, kayaking, and picnicking, this park provides an escape from the ordinary. Take a boat ride to the nearby Whiskey Creek and marvel at the mangroves that line its winding waters. John U. Lloyd Beach State Park is an adventurer's paradise waiting to be explored.
Dania Beach
Venturing a little further north, we encounter the beautiful Dania Beach. Known for its uncrowded shores and pristine conditions, this beach is a haven for those seeking a peaceful retreat. Feel the soft sand between your toes, enjoy a beachside picnic, or try your hand at some water sports. The calm and serene atmosphere of Dania Beach is sure to wash away your worries, leaving you feeling rejuvenated.
Hallandale Beach
Last but certainly not least, we arrive at Hallandale Beach, a true gem of Hollywood's coastline. With its wide sandy beach and inviting blue waters, this beach offers a perfect blend of relaxation and recreational activities. Soak up the sun, go for a refreshing swim, or engage in thrilling water sports such as jet skiing or paddleboarding. Hallandale Beach has something for everyone, ensuring an unforgettable beach experience.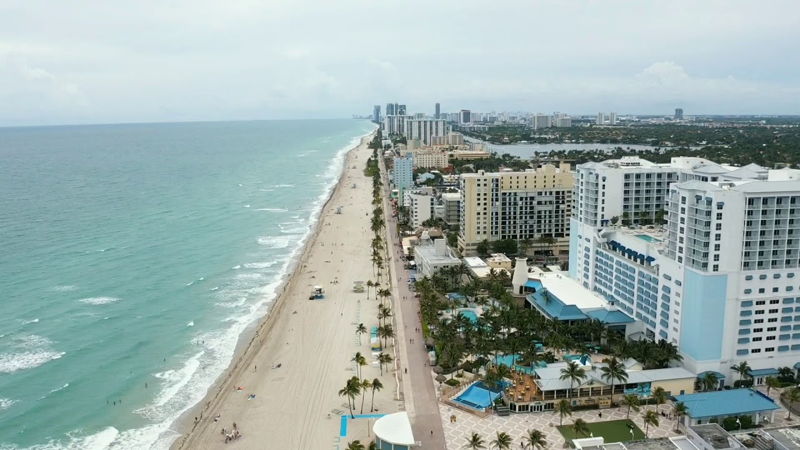 So, pack your bags, put on your favorite beach attire, and make your way to Hollywood, Florida. Experience the sun-kissed shores, the gentle ocean breeze, and the sheer beauty of these beaches that will leave an indelible mark on your soul. Hollywood's beaches are not just destinations; they are gateways to a world where the worries of everyday life fade away, and the beauty of nature takes center stage.
---
Ocean condition in this area of Hollywood
The ocean conditions in the Hollywood, Florida area are generally warm, inviting, and perfect for beach activities throughout the year. The Atlantic Ocean, which borders Hollywood, offers a pleasant water temperature, making it ideal for swimming, snorkeling, and various water sports.
The water clarity along the coastline is often excellent, allowing visitors to witness the vibrant marine life beneath the surface. Snorkelers and scuba divers can explore the breathtaking underwater world, encountering colorful fish, coral reefs, and even the occasional sea turtle or dolphin.
The waves in Hollywood, Florida are typically calm, particularly during the summer months, making it an excellent destination for families and those who prefer relaxed swimming conditions. The gently rolling waves provide an ideal environment for leisurely floating or learning to surf.
It's important to note that while the ocean conditions in Hollywood are generally favorable, they can be influenced by weather patterns, tides, and seasonal changes. Visitors should always exercise caution and pay attention to any advisories or warnings issued by local authorities, especially during hurricane seasons or inclement weather.
To ensure a safe and enjoyable experience, it is advisable to check the local weather forecast, ocean conditions, and any relevant beach advisories before heading out to the coast. Lifeguards are present at many of the beaches in the area, providing an added layer of safety and assistance to beachgoers. Overall, the ocean conditions in the Hollywood, Florida area offer a delightful and inviting experience for visitors, allowing them to enjoy the beauty and tranquility of the Atlantic Ocean while indulging in various beach activities.
---
Beach facilities in Hollywood
Hollywood, Florida offers a range of beach facilities that cater to the needs and comfort of visitors. Whether you're looking for amenities to enhance your beach experience or seeking convenient services nearby, Hollywood has you covered. Here are some of the beach facilities you can expect to find:
Restrooms and Changing Areas: Many of the beaches in Hollywood provide restroom facilities and changing areas, allowing visitors to freshen up before or after enjoying their time in the sun. These facilities are typically well-maintained and easily accessible.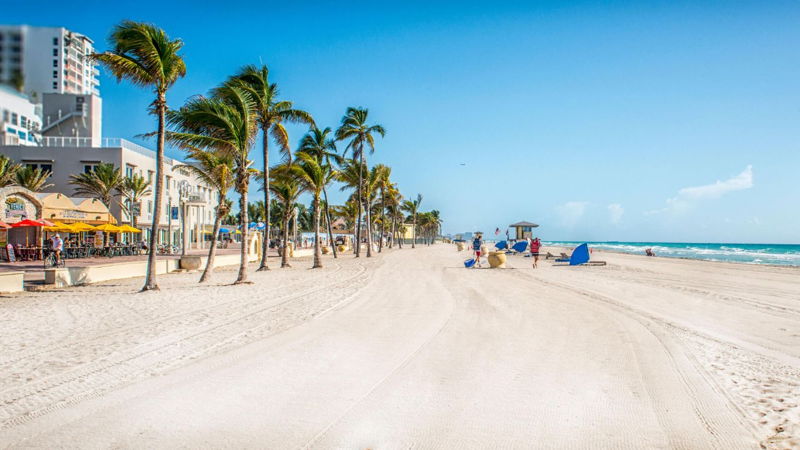 Showers: Beach showers are available at various locations along the coastline, providing beachgoers with the opportunity to rinse off saltwater and sand before leaving the beach. These showers help keep you feeling refreshed and comfortable.

Picnic Areas and Barbecue Grills: If you're planning a beachside picnic or gathering, you'll be pleased to find picnic areas equipped with tables and benches. Some beaches even have barbecue grills, allowing you to enjoy a delightful cookout with family and friends while relishing the scenic surroundings.

Beach Chair and Umbrella Rentals: To enhance your comfort and relaxation, several beaches in Hollywood offer beach chair and umbrella rentals. These rentals provide a convenient solution for those who prefer not to bring their own beach equipment, allowing you to bask in the sun's rays or find shade as desired.

Boardwalks and Promenades: Hollywood Beach is renowned for its vibrant boardwalk, featuring an array of shops, restaurants, and entertainment options. The boardwalk offers a pleasant stroll along the shoreline, with convenient access to amenities, including restrooms, outdoor showers, and snack vendors.

Water Sports Rentals: If you're seeking a bit of adventure, you'll find water sports rental shops along the beachfront. From paddleboards and kayaks to jet skis and parasails, these rental services enable you to enjoy thrilling activities and explore the ocean in a different way.

Lifeguard Stations: Safety is a top priority at the beaches in Hollywood. Lifeguard stations are strategically located along the coastline, ensuring the well-being of beachgoers and providing assistance when needed. It is always advisable to swim within the designated areas and pay attention to any instructions from the lifeguards.
The beach facilities in Hollywood, Florida are designed to enhance your beach experience, providing convenience, comfort, and safety. Whether you're looking for amenities to cater to your basic needs or seeking recreational options to make the most of your time by the ocean, Hollywood has an array of facilities to meet your requirements.
---
Well known buildings by te beach of Hollywood for property investment
When considering property investment near the beach in Hollywood, Florida, there are several well-known buildings that are worth exploring. These buildings offer not only a prime location but also a range of amenities and attractive features that make them desirable for potential investors. Here are a few notable buildings:
Trump Hollywood
As an iconic luxury condominium tower, Trump Hollywood offers lavish oceanfront living. This 41-story building features a distinctive design, high-end finishes, and unparalleled views of the Atlantic Ocean. Amenities include a pool, spa, fitness center, concierge services, and private beach access.
Apogee Beach
Located directly on the beach, Apogee Beach is a stunning condominium development known for its modern architecture and luxurious residences. This boutique-style building offers spacious units with upscale finishes, expansive balconies, and panoramic ocean views. Residents can enjoy a beachfront pool, fitness center, spa, and 24-hour security.
Sage Beach
With a prime location right on the sand, Sage Beach boasts contemporary beachfront living. This boutique-style building features spacious units with floor-to-ceiling windows, private elevators, and expansive terraces offering breathtaking ocean views. Amenities include a beachfront pool, fitness center, and concierge services.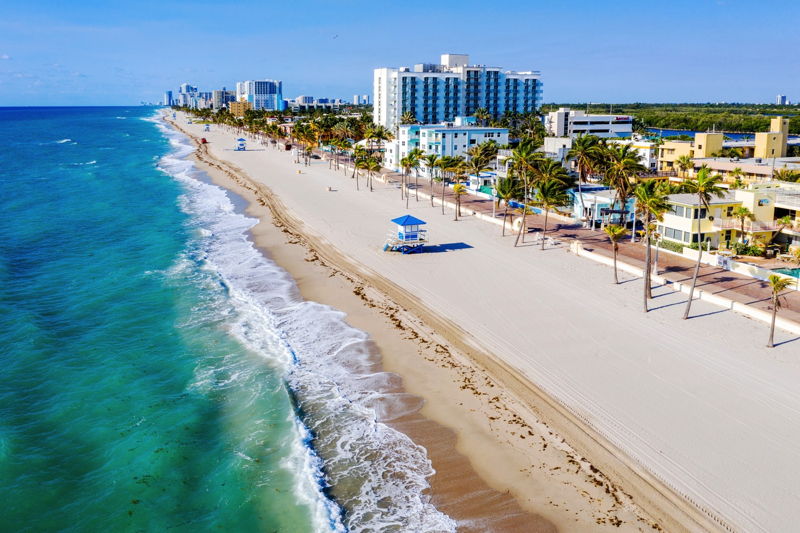 Hyde Beach House
Situated just steps from the beach, Hyde Beach House is a stylish condominium development offering resort-style living. The building features beautifully designed residences with modern finishes and spacious balconies. Residents can enjoy a range of amenities such as a pool deck overlooking the ocean, a fitness center, spa, restaurant, and beach club access.
Ocean Palms
Offering spacious and luxurious residences, Ocean Palms is a beachfront condominium tower that provides an elegant living experience. With private elevator access, expansive balconies, and panoramic ocean views, this building exudes sophistication. Amenities include a pool, fitness center, tennis courts, and 24-hour security.
The Residences at Hollywood Beach
This luxury condominium complex offers a range of upscale units with modern designs and stunning ocean views. The building features amenities such as a rooftop pool, fitness center, concierge services, and direct beach access.
Diplomat Oceanfront Residences
Situated within the prestigious Diplomat Resort & Spa complex, these condominium residences provide a combination of luxury and convenience. With direct beach access, residents can enjoy resort-style amenities, including multiple pools, spa services, restaurants, and a championship golf course.
Costa Hollywood Beach Resort
This stylish mixed-use development combines hotel accommodations and residential units. The building offers fully furnished studios and one-bedroom residences, providing an opportunity for investment in the hospitality sector. Amenities include a rooftop pool, fitness center, restaurants, and a beach club.
Renaissance on the Ocean
Located on the pristine sands of Hollywood Beach, Renaissance on the Ocean offers luxury living with breathtaking ocean and Intracoastal views. The building features spacious residences, resort-style amenities including pools, tennis courts, a fitness center, and private beach access.
Hollywood Station Residences
Situated in downtown Hollywood, this mixed-use complex includes residential units, retail spaces, and office spaces. The building provides modern condominiums with various floor plans, along with amenities such as a pool, fitness center, and secure parking.
Remember to thoroughly research each property, assess market conditions, and consult with professionals such as real estate agents and financial advisors to make informed investment decisions. Factors such as location, amenities, rental potential, and market trends should be carefully considered to find the property that aligns with your investment goals and preferences.