Brazilian restaurants in Boca Raton area
Brazilian restaurant in Boca Raton area. Check the informations where to find Brazilian food and good places to eat. Brazilian cuisine is a vibrant and diverse culinary experience that reflects the country's rich cultural heritage, blending indigenous, African, European, and Asian influences. It varies significantly from region to region, with each area having its own unique flavors and traditional dishes. Here are some key aspects of Brazilian cuisine.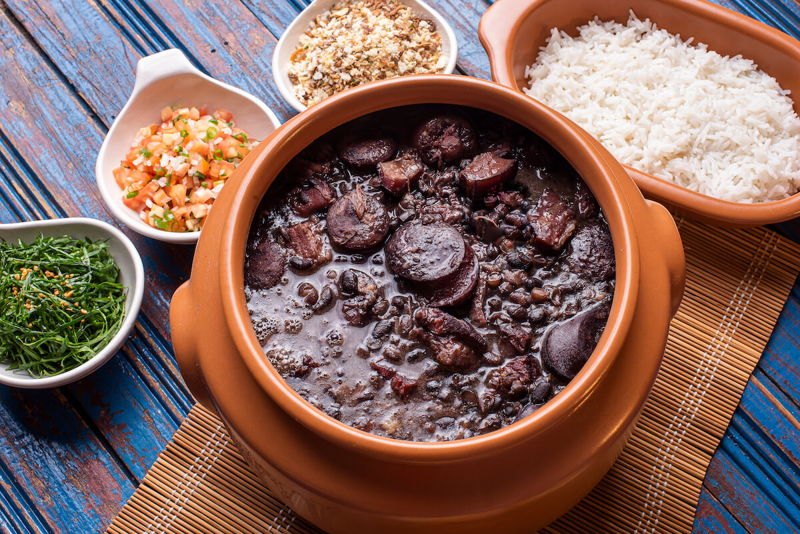 Bolinha Brazilian Steakhouse
Address: 6900 N Federal Hwy, Boca Raton, FL 33487
Bolinha Brazilian Steakhouse offers an authentic Brazilian churrasco experience. The restaurant features a salad bar with a wide array of fresh vegetables, cheeses, and cold cuts. The main attraction, however, is the continuous tableside service of grilled meats, including tender cuts of beef, lamb, pork, and chicken. The gauchos (Brazilian cowboys) skillfully carve the meats directly onto your plate, offering a truly immersive dining experience.
Picanha Brazil Restaurant
Address: 22797 State Rd 7, Boca Raton, FL 33428
Picanha Brazil Restaurant specializes in traditional Brazilian cuisine. The menu offers a variety of dishes, including feijoada (a black bean stew with pork), picanha (a popular cut of beef), moqueca (a seafood stew), and coxinha (a deep-fried dough filled with chicken). They also serve a selection of tasty side dishes such as farofa (toasted cassava flour), pão de queijo (cheese bread), and couve mineira (sauteed collard greens).
Boteco Brazilian Bar
Address: 4450 NW 77th Ave, Coral Springs, FL 33065
Although located in Coral Springs, Boteco Brazilian Bar is worth mentioning as it is relatively close to Boca Raton and offers an authentic Brazilian dining experience. This lively establishment combines a restaurant and a bar, offering a vibrant atmosphere for guests. The menu features traditional Brazilian dishes such as acarajé (deep-fried black-eyed pea balls filled with shrimp), pastel (fried pastry filled with various savory ingredients), and a variety of delicious meat skewers. They also serve caipirinhas, a popular Brazilian cocktail made with cachaça, sugar, and lime.
The Brazilian Grill
Address: 1356 N Federal Hwy, Pompano Beach, FL 33062
While not located directly in Boca Raton, The Brazilian Grill in Pompano Beach is worth the short drive for its delectable Brazilian cuisine. This restaurant specializes in rodizio-style dining, where an assortment of meats is brought to your table on skewers. The selection typically includes succulent cuts of beef, pork, lamb, and chicken. Complementing the meats, you'll find a salad bar offering a variety of fresh salads, vegetables, and traditional Brazilian side dishes.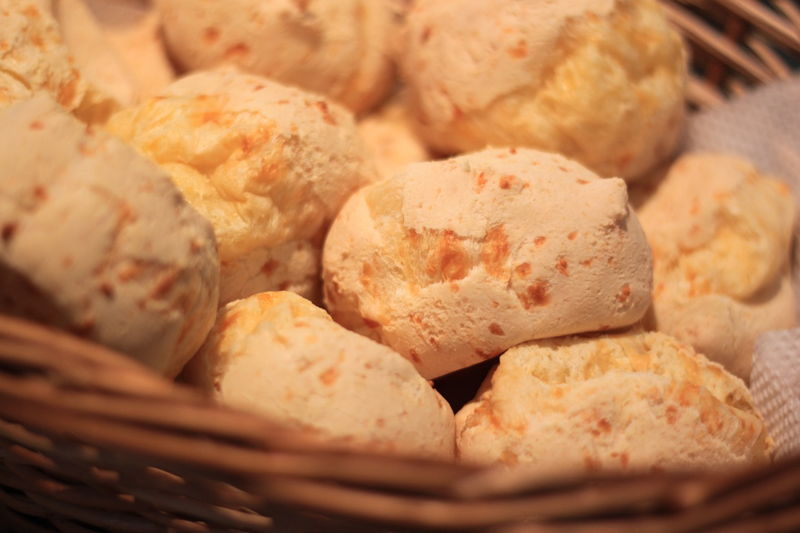 Brazilian Tropicana
Address: 4100 N Powerline Rd, Pompano Beach, FL 33073
Brazilian Tropicana is a charming restaurant known for its warm and inviting atmosphere. The menu showcases a range of Brazilian dishes, such as feijoada, bobó de camarão (shrimp stew with yucca), moqueca de peixe (fish stew), and picanha. The restaurant also offers a buffet-style salad bar with a selection of fresh ingredients and side dishes. To complete the dining experience, Brazilian Tropicana serves delicious desserts, including brigadeiro (a chocolate truffle) and pudim (Brazilian-style flan).
Check also Brazilians in Florida
---
Brazilian food
Brazilian cuisine's diversity and bold flavors make it a true culinary adventure for anyone seeking to explore the rich tastes of Brazil. Whether you're savoring a traditional feijoada, experiencing the flavors of a churrascaria, or enjoying açaí on the beach, Brazilian cuisine offers something to delight every palate.
Rice and Beans
Rice and beans are a staple in Brazilian meals and serve as the foundation of many dishes. The combination of rice and black beans, known as "feijão com arroz," is a ubiquitous accompaniment to various meats and stews.
Churrasco
Brazilian churrasco, or barbecue, is world-famous. It involves grilling various cuts of high-quality meat, such as picanha (top sirloin cap), linguica (sausage), fraldinha (flank steak), and coração (chicken hearts). Churrascarias (Brazilian steakhouses) are popular, offering a continuous service of grilled meats brought to your table by servers known as gauchos.
Feijoada
Considered the national dish of Brazil, feijoada is a hearty black bean stew made with various cuts of pork, sausages, and beef. It's typically served with rice, collard greens, orange slices, and farofa (toasted cassava flour).
Moqueca
Originating from the northeastern state of Bahia, moqueca is a flavorful seafood stew made with fish or shrimp, coconut milk, dendê oil (palm oil), tomatoes, onions, and peppers. It's often accompanied by rice and pirão (a thick sauce made from fish stock).
Acarajé
A popular street food in Bahia, acarajé is a deep-fried black-eyed pea cake filled with vatapá (a spicy shrimp paste) and caruru (okra stew). It's traditionally sold by Baianas (women dressed in traditional Bahian clothing) at street stalls.
Pastel
These deep-fried pastries are filled with a variety of savory ingredients such as cheese, meat, or heart of palm. They are a common street food snack enjoyed throughout Brazil.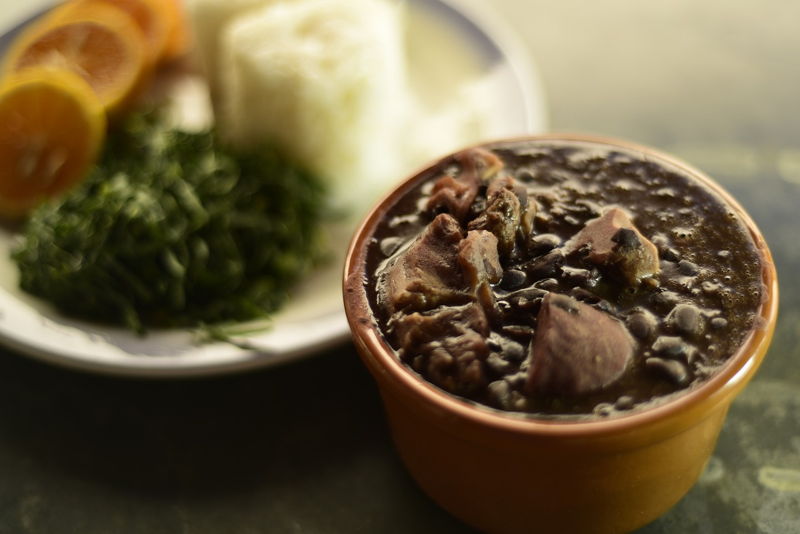 Pão de Queijo
These delightful cheese bread rolls are made from cassava flour and cheese, creating a chewy and cheesy treat popular all over the country.
Brigadeiro
A beloved Brazilian dessert, brigadeiro is a chocolate truffle made from condensed milk, cocoa powder, butter, and chocolate sprinkles. It's often served at celebrations and parties.
Açaí Bowl
Originally from the Amazon region, açaí bowls have gained popularity worldwide. The frozen açaí berry puree is typically topped with granola, bananas, and other fruits, making for a refreshing and healthy treat.
Caipirinha
Brazil's national cocktail, caipirinha, is made from cachaça (sugarcane spirit), lime, sugar, and ice. It's a refreshing and potent drink enjoyed by locals and visitors alike.