Boca Raton living
Welcome to Boca Raton: Where Living is a Beach and a Breeze!
If you've never been to Boca Raton, Florida, then you're in for a real treat! This charming coastal city, located in Palm Beach County, is known for its beautiful beaches, luxurious lifestyle, and vibrant community. But it's not just the sun, sand, and surf that make Boca Raton unique – it's also the city's facilities and amenities that make living here a truly enjoyable experience. So, sit back, relax, and let me take you on a humorous and informative tour of Boca Raton living!
Life's a Beach – Literally!
When it comes to living in Boca Raton, the beach is undoubtedly the star of the show. With miles of pristine sandy shores, crystal-clear blue waters, and swaying palm trees, Boca Raton's beaches are simply breathtaking. Whether you're a beach bum, a sun worshipper, or just someone who enjoys the sound of crashing waves, the beach is where you'll want to be.
But it's not just about lounging on the sand or taking a dip in the ocean – Boca Raton's beaches offer a plethora of recreational activities. From beach volleyball and paddleboarding to surfing and snorkeling, there's always something fun to do by the shore. And if you're a nature lover, you'll appreciate the abundance of marine life, including dolphins, sea turtles, and tropical fish, that call Boca Raton's waters home.
Check also Boca Raton best realtors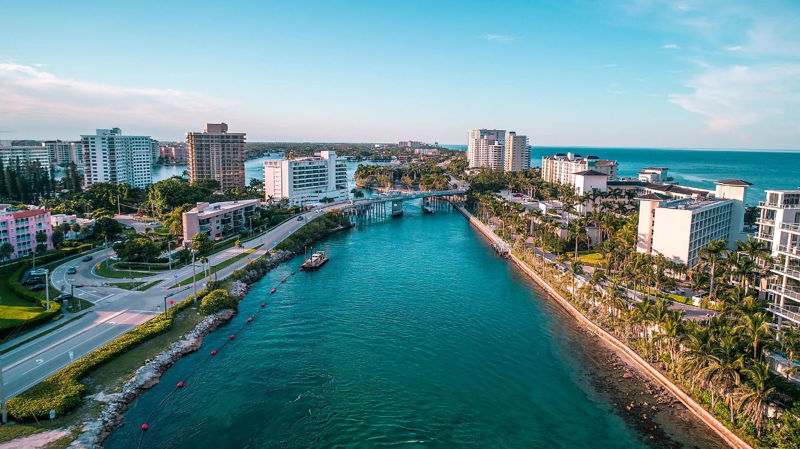 With such beautiful beaches at your doorstep, it's no wonder that Boca Raton residents are known for their sun-kissed skin, laid-back attitude, and love for all things beach-related. So, don't forget your sunscreen, flip-flops, and a beach towel – in Boca Raton, life's a beach – quite literally!
City Facilities: Where Convenience Meets Fun
Apart from its stunning beaches, Boca Raton boasts a wide range of city facilities that cater to the needs and interests of its residents. From parks and recreation centers to cultural institutions and entertainment venues, there's always something to do in this bustling city.
More about Boca Raton on our website.
One of the city's most popular facilities is the Mizner Park, located in the heart of downtown Boca Raton. This upscale outdoor shopping center is a favorite among locals and visitors alike, offering a variety of high-end boutiques, trendy restaurants, and chic cafes. With its Mediterranean-inspired architecture, beautiful fountains, and lush landscaping, Mizner Park is not just a place to shop and dine, but also a social hub where people gather to see and be seen.
For those who appreciate arts and culture, Boca Raton has plenty to offer. The Boca Raton Museum of Art, located in Mizner Park, is a must-visit for art enthusiasts. This prestigious museum showcases a diverse collection of contemporary and modern art, as well as a wide range of special exhibitions and educational programs. From painting and sculpture to photography and installations, there's something to inspire and delight everyone.
40 parks in Boca
In addition to its cultural offerings, Boca Raton also boasts a vibrant parks and recreation system. With over 40 parks and green spaces, there's always a place to enjoy the outdoors, whether it's for a leisurely stroll, a picnic with friends, or a game of tennis or golf. One of the city's flagship parks is the Sugar Sand Park, a 132-acre park that offers a variety of recreational facilities, including an expansive playground, a carousel, and an interactive science museum for kids. With its well-maintained facilities and beautiful natural surroundings, Sugar Sand Park is a popular destination for families and nature lovers alike. Check also Red Reef Park in Boca Raton and properties next to it.
But it's not just about parks and culture in Boca Raton – the city also knows how to have fun! The Boca Raton Resort & Club, a world-renowned luxury resort located on the shores of the Atlantic Ocean, is a prime example of the city's commitment to entertainment and leisure. Boasting a private beach, a marina, championship golf courses, world-class restaurants, and a plethora of recreational activities, the Boca Raton Resort & Club is a playground for the rich and famous, as well as for the local community.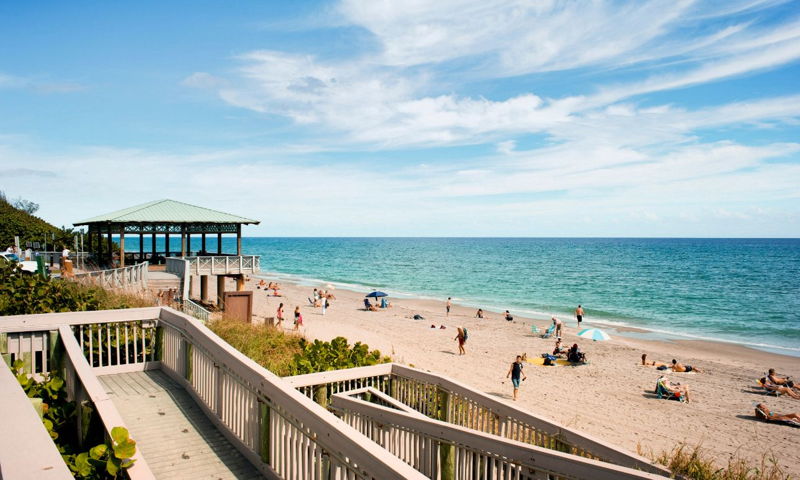 Gumbo Limbo
One of the unique facilities that sets Boca Raton apart is Gumbo Limbo Nature Center, a hidden gem nestled along the coastline. This environmental education center and wildlife rehabilitation facility offers a close-up experience with Florida's diverse marine life and coastal ecosystems. Visitors can explore the butterfly garden, take a stroll on the boardwalk through the mangroves, and even participate in sea turtle conservation programs. Gumbo Limbo Nature Center provides an educational and enjoyable experience for all ages and is a perfect place to connect with nature.
In addition to these recreational facilities, Boca Raton also takes care of its residents' practical needs. The city is known for its excellent schools, including top-rated public and private schools, making it an ideal place for families with children. The healthcare facilities in Boca Raton are also top-notch, with several hospitals and medical centers that provide quality healthcare services to the community. Convenience is also a priority in Boca Raton, with well-maintained roads, efficient public transportation, and a wide range of shopping centers and supermarkets, making daily life easy and enjoyable.
A Sense of Community and Fun
What truly sets Boca Raton apart is its vibrant community and the sense of fun that pervades the city. Despite being an upscale and affluent area, Boca Raton is known for its welcoming and friendly residents from all over the world who are proud of their city and its unique lifestyle. The city hosts numerous events and festivals throughout the year, ranging from art and music festivals to food and wine events, which bring the community together in celebration. Any time of the year.
Check also golfing in Boca Raton area
Boca Raton in Florida is also home to a diverse and eclectic dining scene, with an abundance of restaurants offering cuisines from around the world. From fine dining establishments to casual eateries and food trucks, there's something for every palate and budget. And with the city's proximity to the ocean, seafood lovers are in for a treat with the freshest catch of the day available at many local eateries and great restaurant.
Humor in Everyday Life
One thing that you'll notice about living in Boca Raton is the sense of humor that pervades everyday life. From witty signs and bumper stickers to lighthearted conversations with strangers, humor is an integral part of the city's culture. The residents of Boca Raton know how to take life with a grain of salt and find joy and laughter in the little things.
For example, you might come across a sign that says, "I'm on a seafood diet. I see food, and I eat it – Boca Raton style!" Or you might overhear a conversation between two retirees discussing their latest adventures in pickleball, jokingly referring to it as the "world championship of retirees." This unique sense of humor adds a delightful and refreshing aspect to everyday life in Boca Raton, making it a place where you can't help but smile and chuckle as you go about your day.
A Relaxed and Enjoyable Lifestyle
Living in Boca Raton is all about embracing a relaxed and enjoyable lifestyle. The city's beautiful beaches, diverse recreational facilities, vibrant community, and sense of humor all contribute to a laid-back and carefree atmosphere that makes everyday life feel like a perpetual vacation.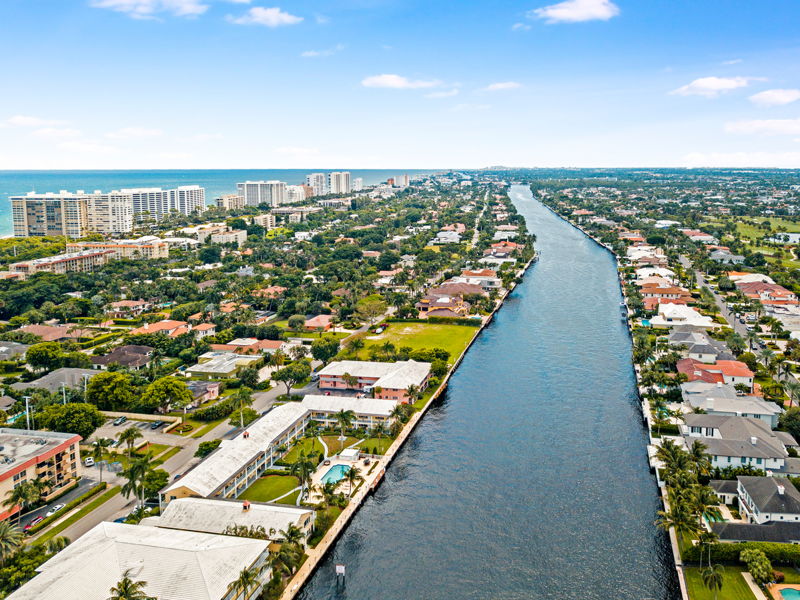 Whether it's taking a leisurely stroll on the beach at sunset, enjoying a round of golf with friends, or simply savoring a delicious meal at a local restaurant, the pace of life in Boca Raton encourages you to slow down, take a breath, and appreciate the simple pleasures in life in Florida. The city's emphasis on leisure and recreation makes it a perfect destination for those who appreciate the importance of work-life balance and value their quality of life.
Outdoor lifestyle
One of the unique aspects of living in Boca Raton is the opportunity to enjoy outdoor activities year-round. With its warm tropical climate, residents can indulge in outdoor pursuits such as biking, jogging, or kayaking throughout the year. The city is also home to numerous parks and green spaces, providing ample opportunities for picnicking, playing sports, or simply enjoying nature. Whether it's a weekend barbecue with friends at one of the many parks or a morning jog along the scenic trails, outdoor enthusiasts will find plenty of options to stay active and enjoy the beautiful surroundings in Boca Raton.
Cultural community
Boca Raton's cultural scene is another facet that adds to the city's charm. The city is home to a thriving arts and cultural community, with numerous museums, galleries, theaters, and performing arts centers. The Boca Raton Museum of Art, for example, features a diverse collection of contemporary art, while the Mizner Park Cultural Arts Center hosts a variety of performances, exhibitions, and events throughout the year. From art walks to live music performances, Boca Raton offers a vibrant cultural scene that caters to a wide range of interests.
When it comes to humor, Boca Raton doesn't take itself too seriously. The city is known for its quirky and playful events that showcase its unique sense of humor. For instance, the annual "Boca's Ballroom Battle" brings together local celebrities who compete in a dance-off to raise funds for charity, while the "Boca Bacchanal" is a food and wine festival that features playful events like grape stomping competitions. These events not only provide entertainment for the community but also highlight the lighthearted and fun-loving spirit that makes Boca Raton stand out.
Another facet of Boca Raton living that brings humor to the forefront is the city's penchant for creative and humorous signage. As you stroll through the city streets or drive around town, you're likely to come across signs that bring a smile to your face or make you chuckle. Signs like "No Sniveling Allowed" at the beach entrance or "Gator Parking Only. All Others Will Be Towed" at a local parking lot add a playful and witty touch to everyday life in Boca Raton. These lighthearted and humorous signs add to the unique character of the city and make it a place where laughter is never too far away.
Something for foodies in Boca
In addition to its recreational and cultural offerings, Boca Raton also boasts a thriving food scene that caters to all tastes and preferences. The city is known for its diverse culinary options, ranging from upscale restaurants to casual cafes and food trucks. With its proximity to the ocean, seafood lovers will find a plethora of fresh seafood options, while those who enjoy international cuisines can indulge in flavors from around the world. And let's not forget about the quintessential Floridian dessert – key lime pie! Boca Raton is home to many bakeries and cafes that serve this tangy and sweet treat, perfect for satisfying your sweet tooth. Check also places in Boca Raton for a breakfast.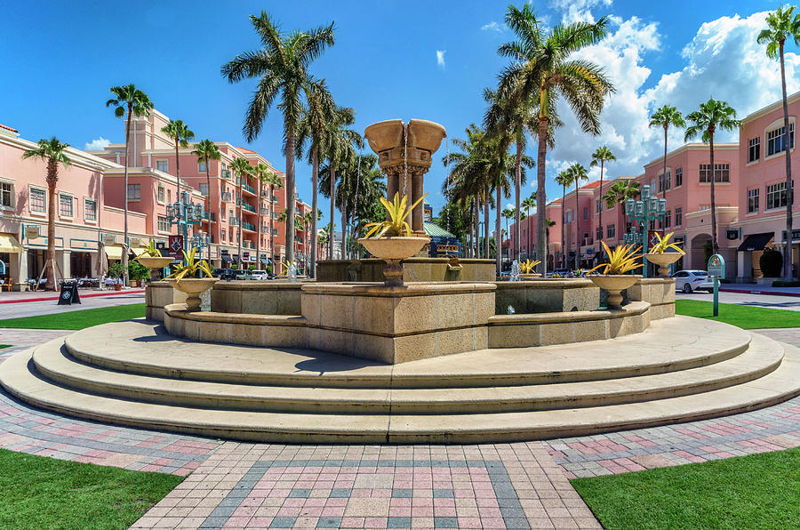 Shopoholics paradise
When it comes to shopping, Boca Raton doesn't disappoint either. The city is home to several upscale shopping centers and boutiques that offer a wide range of fashion, accessories, and home decor options. From designer brands to local artisans, there's something for every style and budget in Boca Raton. Mizner Park, a popular outdoor shopping and entertainment complex, is a must-visit destination for fashion enthusiasts and those who appreciate unique finds. With its Mediterranean-inspired architecture and charming ambiance, Mizner Park offers a delightful shopping experience that combines style and leisure in true Boca Raton fashion. Check also Boca Raton Town Center Mall.
Great Schools in Boca
Beyond its recreational, cultural, and culinary offerings, Boca Raton also boasts excellent city facilities that make living in the city convenient and enjoyable. The city is known for its well-maintained parks, sports fields, and community centers that provide ample opportunities for recreational activities for people of all ages. The Boca Raton Community Center, for example, offers a wide range of programs and activities, including fitness classes, art workshops, and social events, making it a hub of community engagement and interaction.
The city's commitment to education is also evident in its top-rated schools. Boca Raton is served by the School District of Palm Beach County, which is one of the largest and most diverse school districts in Florida. The district boasts excellent schools that consistently rank high in state and national rankings, providing families with access to quality education for their children. Boca Raton is also home to several prestigious private schools, further enhancing the educational opportunities for its residents.
Check also top places to own property in Boca Raton
Medical facilities in Boca Raton
For healthcare needs, Boca Raton offers access to world-class medical facilities. The city is home to multiple hospitals and medical centers that provide comprehensive healthcare services, ranging from primary care to specialized treatments. Residents can have peace of mind knowing that quality healthcare is easily accessible within the city.
Transportation
In terms of transportation, Boca Raton is well-connected with an extensive network of roads and highways that make commuting and traveling within and beyond the city convenient. The city also offers public transportation options, including buses and trolleys, which provide affordable and accessible transportation for residents and visitors alike.
Beaches in the area
One of the unique aspects of Boca Raton living is its proximity to the beautiful beaches of South Florida. The city boasts miles of pristine sandy beaches along the Atlantic Ocean, where residents can relax, swim, or engage in water sports. The city's beaches are well-maintained and offer facilities such as lifeguard stations, picnic areas, and restrooms, making them perfect for a day of fun in the sun. Residents can also take advantage of the many beach parks that offer additional amenities such as playgrounds, pavilions, and beach volleyball courts, providing ample opportunities for outdoor recreation and relaxation.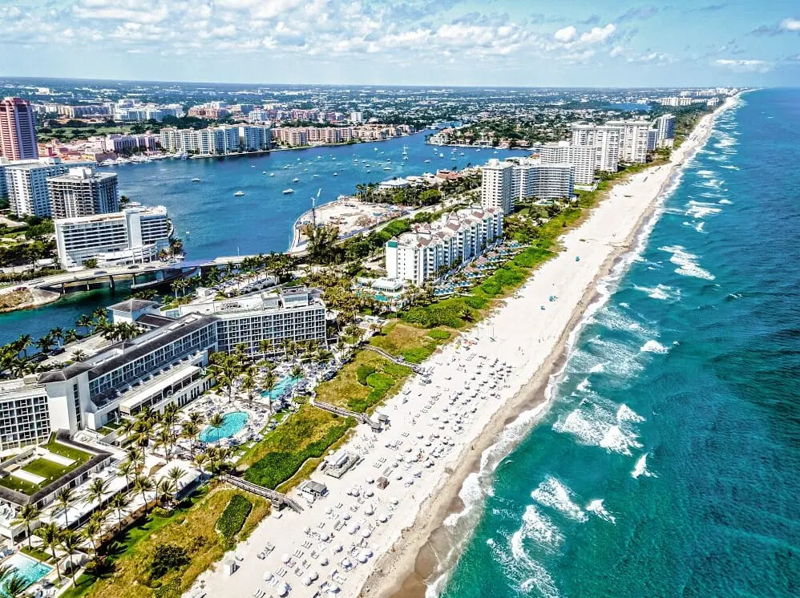 In addition to its beautiful beaches, Boca Raton is also known for its picturesque parks and nature preserves. The city is home to several parks that offer lush green spaces, walking trails, and playgrounds, providing residents with ample opportunities to connect with nature and enjoy outdoor activities. The Gumbo Limbo Nature Center, a popular attraction in Boca Raton, offers educational programs, nature trails, and a sea turtle rehabilitation facility, providing a unique experience for nature enthusiasts of all ages.
Another notable city facility in Boca Raton is the Boca Raton Public Library. The library is a hub of knowledge, offering a vast collection of books, e-books, audiobooks, and other resources for all age groups. The library also hosts various events, workshops, and book clubs, providing a vibrant community space for learning and enrichment.
Great to be here
In addition to its excellent city facilities, Boca Raton also hosts a wide range of events and festivals throughout the year, adding to its vibrant and dynamic culture. The annual "Boca Fest," for example, is a popular arts and crafts festival that showcases local artisans and craftsmen, offering unique and handcrafted items for sale. The "Summer in the City" series is another highlight, featuring live music, movies under the stars, and other family-friendly activities that bring the community together for fun and entertainment.
Living in Boca Raton also offers a strong sense of community and volunteerism. The city is home to numerous community organizations and volunteer groups that work towards the betterment of the city and its residents. From environmental conservation to social services, there are ample opportunities for residents to get involved and make a positive impact in their community.
Fun loving spirit
Boca Raton has a unique sense of humor that is evident in various aspects of city life. From funny street names to quirky local traditions, Boca Raton residents know how to add a touch of humor to their everyday lives. For example, the city is known for its "Muttsquerade" event, a humorous dog costume contest held during Halloween, where furry friends strut their stuff in creative and often hilarious costumes. The city also hosts a "Boca's Ballroom Battle," a lighthearted dance competition featuring local celebrities and community leaders, which raises funds for a local nonprofit. These events and traditions add a dose of humor and entertainment to the city's vibrant culture, making it a fun and enjoyable place to live.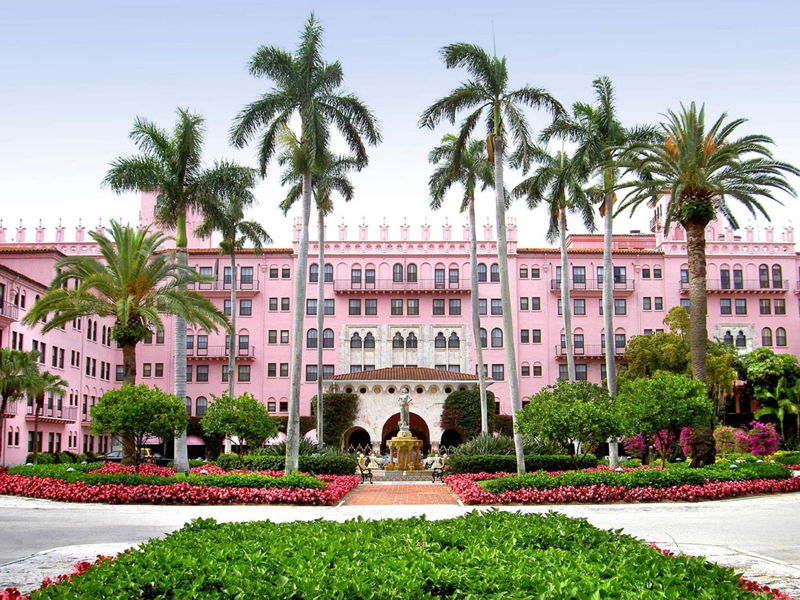 Another aspect of Boca Raton's humor and fun-loving spirit can be seen in its unique and sometimes eccentric city facilities. For example, the city is home to the "Wildflower Park," a park that features interactive sculptures of giant wildflowers, providing a whimsical and playful environment for children and adults alike. Boca Raton is also known for its distinctive "Red Reef Park," which is home to an artificial reef that provides excellent snorkeling and diving opportunities, along with a picturesque gazebo that is a popular spot for weddings and events. These unique city facilities add to the city's charm and contribute to its sense of humor and playfulness.
Location, location, location
Boca Raton's location also provides easy access to various nearby attractions and destinations. The city is located just minutes away from the pristine beaches of the Atlantic Ocean, offering residents opportunities for swimming, sunbathing, and water sports year-round. The nearby Everglades, a unique and ecologically diverse area, provides opportunities for outdoor adventures such as airboat rides and nature trails. The vibrant city of Miami is also just a short drive away, offering world-class cultural attractions, nightlife, and entertainment options. Boca Raton's strategic location makes it a convenient base for exploring the best of South Florida.
Despite its many amenities and attractions, Boca Raton maintains a friendly and welcoming small-town feel. The city's tight-knit community is known for its neighborly spirit and sense of camaraderie. Residents often participate in local events, community initiatives, and volunteer activities, creating a strong sense of community engagement and pride. The city also hosts various community events and activities throughout the year, such as festivals, farmers' markets, and holiday celebrations, bringing residents together and fostering a sense of belonging.
Check all properties for sale in Palm Beach county
Boca Raton is not only a city with excellent facilities and amenities, but it is also a city with a unique sense of humor and fun-loving spirit. From its humorous traditions and quirky city facilities to its diverse culture, recreational opportunities, educational institutions, and commitment to sustainability, Boca Raton offers an exceptional living experience for its residents. Whether you're a lifelong resident or considering a move to this vibrant city, you're sure to find plenty of reasons to embrace the Boca Raton lifestyle and enjoy its blend of humor, culture, and leisurely living. So, pack your bags, bring your sense of humor, and get ready to experience the joy of living in Boca Raton!