Brickell Key 1 property buyers guide
Brickell Key 1 property buyers guide for investors, renters, first time buyers and sellers. Activa realty sells property in this area. Brickell Key is a man-made island located in Miami, Florida, United States. It is situated in Biscayne Bay, just off the mainland near the Brickell neighborhood. Brickell Key is connected to the mainland by the Brickell Key Bridge.
Brickell Key offers a luxurious residential community with upscale condominium buildings, hotels, and a few commercial spaces. The island provides a serene and exclusive atmosphere, making it an attractive place to live and visit.
Residents of Brickell Key enjoy various amenities, including waterfront parks, walking paths, fitness centers, tennis courts, swimming pools, and private marinas. The island's central location provides convenient access to the vibrant business and entertainment district of Brickell, as well as other popular areas of Miami.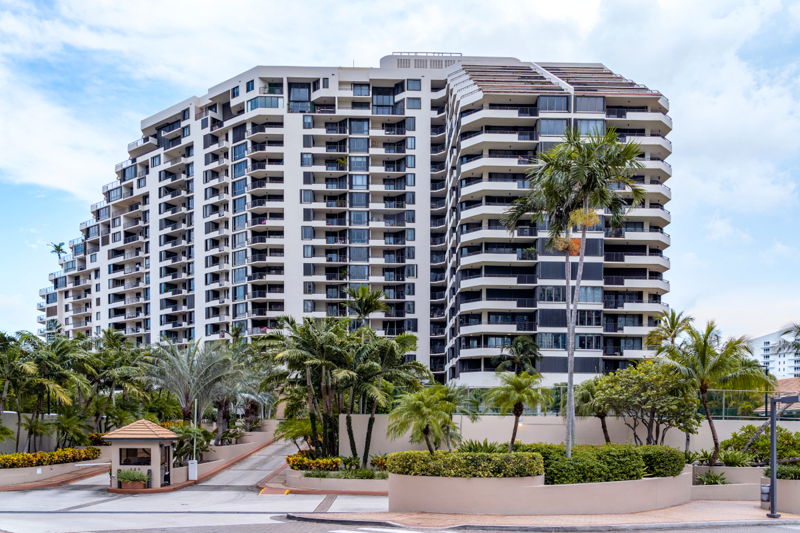 The island is known for its stunning views of the Miami skyline, Biscayne Bay, and the Atlantic Ocean. Many of the residential buildings on Brickell Key feature floor-to-ceiling windows and spacious balconies to take advantage of these picturesque views.
Brickell Key is also home to some notable landmarks, such as the luxurious Mandarin Oriental Hotel and Spa, which offers fine dining, a world-class spa, and breathtaking views. The island's waterfront promenade, known as Brickell Key Drive, is a popular spot for leisurely strolls and enjoying the waterfront scenery.
Overall, Brickell Key is a prestigious and sought-after community in Miami, offering a combination of luxury living, stunning views, and a tranquil environment.
---
Amenities in the area
Brickell Key offers a range of amenities to its residents and visitors. Here are some of the amenities you can find in the area:
Parks and Green Spaces
Brickell Key features beautifully landscaped parks and green spaces, providing residents with areas to relax, exercise, and enjoy the outdoors. One such park is Brickell Key Park, which offers lush greenery, waterfront views, walking paths, and a playground.
Fitness Centers
Many residential buildings on Brickell Key provide state-of-the-art fitness centers equipped with modern exercise machines, weights, and cardio equipment. Residents can enjoy convenient access to fitness facilities within their own buildings.
Tennis Courts
Tennis enthusiasts will find tennis courts available for recreational play on Brickell Key. These courts offer an opportunity to enjoy the sport and stay active.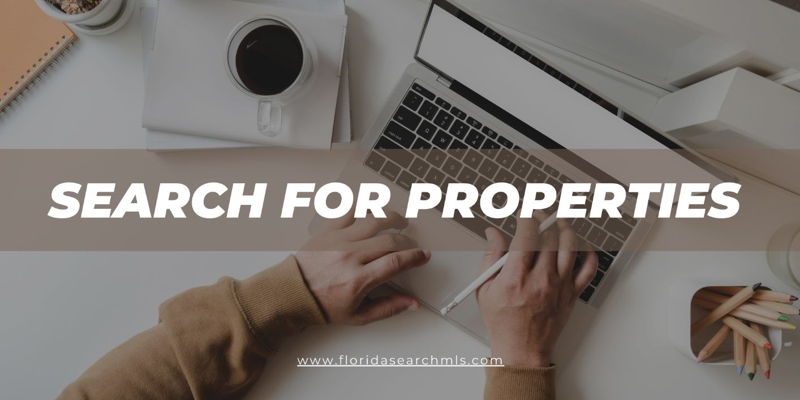 Swimming Pools
Most residential buildings on Brickell Key have swimming pools, allowing residents to cool off and relax under the sun. These pools often come with lounge areas, sun decks, and beautiful views of the bay or city skyline.
Private Marinas
Brickell Key provides private marinas for residents who own boats or yachts. These marinas offer easy access to Biscayne Bay, making it convenient for boating enthusiasts to explore the waterways.
Restaurants and Cafes
While Brickell Key is primarily a residential community, there are some dining options available on the island. Residents and visitors can find a selection of restaurants and cafes offering a variety of cuisines and dining experiences.
Spa and Wellness Facilities
The Mandarin Oriental Hotel and Spa, located on Brickell Key, provides a luxurious spa experience with a wide range of treatments and therapies. Residents and visitors can indulge in relaxing massages, facials, and other wellness services.
Concierge Services
Many residential buildings on Brickell Key offer concierge services, providing residents with assistance for various needs. These services may include package handling, dry cleaning, restaurant reservations, and more.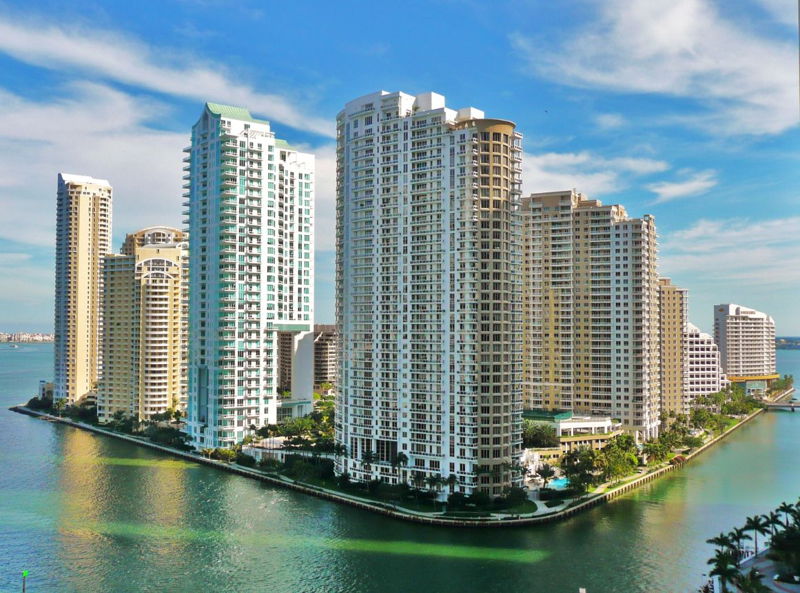 Security
As a gated community, Brickell Key offers enhanced security measures to ensure the safety and privacy of its residents. The island is monitored by security personnel and often features controlled access points.
Convenience Stores and Services
While Brickell Key is a relatively small island, there are convenience stores and services available to cater to the basic needs of residents. These include grocery stores, pharmacies, dry cleaners, and other essential services.
These are just some of the amenities you can find in and around Brickell Key. The island's proximity to the vibrant Brickell neighborhood also provides easy access to additional amenities such as shopping centers, entertainment venues, cultural institutions, and more.
---
Real estate potential in the area
Brickell Key has shown strong investment potential over the years due to its prime location, luxurious residential offerings, and the overall growth and development of Miami as a global city. Here are some factors that contribute to its investment potential:
Desirable Location: Brickell Key's central location in Miami makes it highly desirable. It is situated near the bustling financial district of Brickell and is in close proximity to major employment centers, shopping districts, entertainment venues, and cultural attractions. The island's waterfront setting and stunning views also add to its allure.

Limited Supply: Brickell Key is a small, exclusive island with a limited supply of real estate. This scarcity factor can contribute to the appreciation of property values over time, as demand often exceeds supply. Limited availability can also make properties on Brickell Key more resilient to market fluctuations.

High-End Residential Market: The island is known for its upscale residential offerings, including luxurious condominium buildings with high-quality amenities and top-notch services. These properties attract affluent buyers and investors looking for a prestigious address and a luxurious lifestyle.

Strong Rental Market: Brickell Key's desirable location and luxurious properties make it an attractive option for renters as well. The island's proximity to major business districts, entertainment venues, and transportation hubs makes it appealing to professionals and individuals seeking a convenient and high-end rental experience. This can present opportunities for investors looking to generate rental income.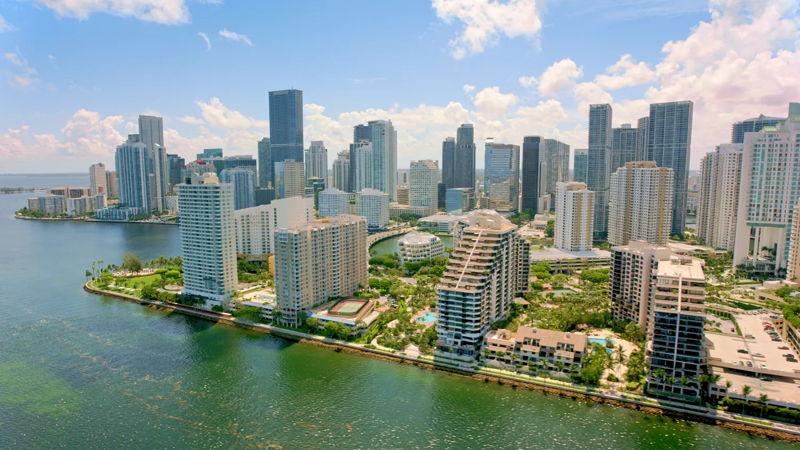 Ifrastructure Development: Miami, including the Brickell area, has seen significant infrastructure development in recent years. This includes improved transportation networks, such as the expansion of the Metrorail and Metromover systems, which enhance connectivity and accessibility to and from Brickell Key. Infrastructure development contributes to the overall growth and attractiveness of the area, benefiting real estate investments.

Economic Growth: Miami has experienced robust economic growth, attracting international businesses, entrepreneurs, and investors. The city serves as a hub for finance, commerce, and trade, with a diverse and expanding economy. This economic growth provides a favorable environment for real estate investments in Brickell Key.

Potential for Capital Appreciation: With its prime location, limited supply, and growing demand, properties on Brickell Key have the potential for capital appreciation over time. The combination of luxury, exclusivity, and desirability can drive property values upward.

Resilience to Market Fluctuations: Historically, Miami's real estate market has demonstrated resilience and the ability to rebound from market downturns. While no investment is entirely immune to market fluctuations, the high-end nature of Brickell Key's real estate market and the strong demand it attracts can provide some stability during uncertain times.
It's important to note that real estate investment involves various risks and factors that can impact returns. Conducting thorough market research, consulting with professionals, and evaluating individual property prospects are crucial steps to take when considering real estate investments in Brickell Key or any other area.