Boca Bridges
Boca Bridges - A Luxurious Oasis Redefining Residential Living
Nestled in the heart of Boca Raton, Florida, Boca Bridges stands as a testament to opulence, sophistication, and architectural brilliance. This exceptional development project, known for its seven magnificent bridges, has quickly become an iconic landmark in the area. In this article, we will delve into the rich history of Boca Bridges, explore its unique features and amenities, and analyze the thriving rental market that has emerged around this prestigious community.
A Glimpse into the Past
Boca Bridges was envisioned and brought to life by the esteemed development company, GL Homes. With a reputation for crafting exceptional residential communities, GL Homes embarked on a mission to create a truly unrivaled living experience in Boca Raton. The visionaries behind this project set out to blend luxurious living spaces with impeccable design, ensuring that Boca Bridges would set new standards of elegance and convenience.
Check realtors in Boca Raton if you want to buy home in Boca Bridges area.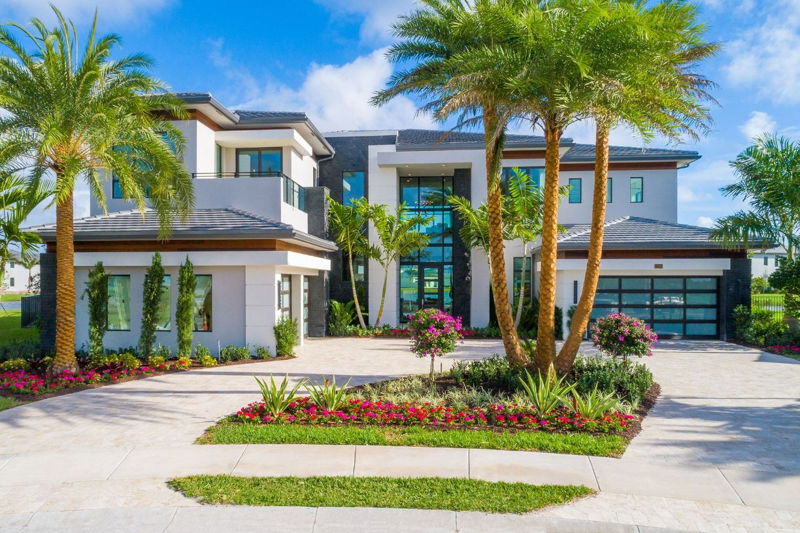 Development and Construction
The construction of Boca Bridges began in 2017 and was completed in 2019. The project required meticulous planning, attention to detail, and the collaboration of renowned architects, designers, and engineers. The seven bridges, which span across stunning water features, serve as the development's centerpiece, captivating both residents and visitors alike.
Each bridge was carefully constructed to embody a unique architectural style, creating a seamless blend of artistry and functionality. The meticulous craftsmanship is evident in the intricate details, from the ornate railings to the precise stone and concrete work. These bridges not only connect different parts of the community but also serve as picturesque focal points, enhancing the overall beauty of Boca Bridges.
Unique Features and Amenities
Boca Bridges offers an impressive array of amenities, ensuring that residents can indulge in a luxurious and convenient lifestyle. The development features an expansive clubhouse, spanning over 27,000 square feet, where residents can socialize, relax, and enjoy a wide range of recreational activities. The clubhouse boasts a state-of-the-art fitness center, a resort-style swimming pool, a full-service spa, and tennis courts, among other world-class facilities. See also tennis courts in Boca Raton area.
For those seeking outdoor tranquility, Boca Bridges provides beautifully landscaped walking trails and serene park areas, ideal for leisurely strolls or picnics. The community also offers a dedicated children's playground, ensuring that families can fully embrace a well-rounded lifestyle.
Residences at Boca Bridges
The residences at Boca Bridges exude elegance, sophistication, and the utmost attention to detail. The development offers a diverse range of floor plans, catering to various lifestyles and preferences. From luxurious single-family homes to spacious townhouses, each residence is crafted with high-quality materials, modern finishes, and thoughtful design elements.
See also: 10 most desirables places to buy a house in Boca Raton
The homes at Boca Bridges boast open-concept layouts, providing ample space for entertaining guests and creating unforgettable memories with loved ones. The interiors are adorned with top-of-the-line appliances, custom cabinetry, and exquisite fixtures, creating an atmosphere of refined luxury.
Rental Market in Boca Bridges
The demand for rentals in Boca Bridges has been steadily increasing since its inception. The community's exceptional amenities, prime location, and reputation for luxury living have made it a highly sought-after destination for both long-term and seasonal renters. With its proximity to the vibrant downtown area, pristine beaches, and renowned golf courses, Boca Bridges offers an unparalleled lifestyle that attracts discerning individuals from around the world.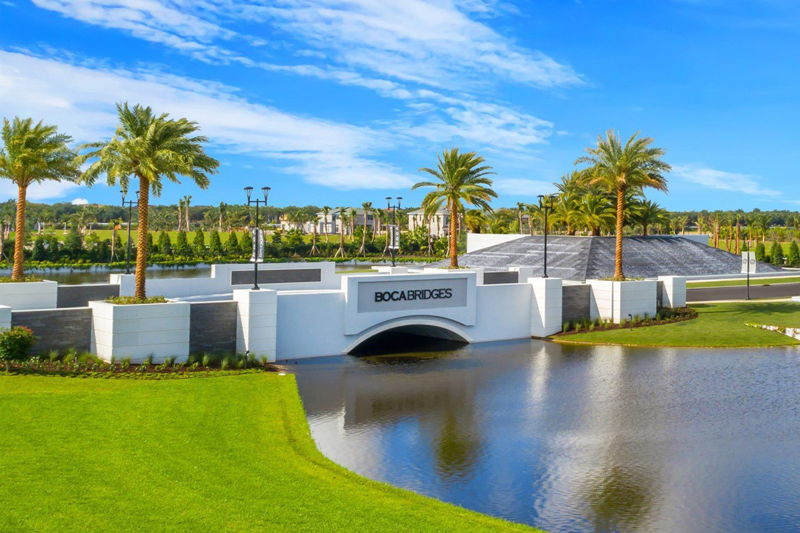 Rental properties within Boca Bridges present an opportunity for investors and homeowners to generate substantial income. The rental market is characterized by high rental yields and low vacancy rates, making it an attractive investment option. Whether it's a single-family home or a townhouse, the rental properties within the community offer a lucrative avenue for investors seeking to capitalize on Boca Raton's thriving real estate market.
---
Boca Bridges stands as a testament to the unyielding pursuit of luxury, architectural brilliance, and the harmonious blending of aesthetics and functionality. From its inception by GL Homes to its completion, Boca Bridges has emerged as a symbol of elevated living in Boca Raton.
The Seven Bridges
The seven bridges, with their captivating designs and meticulous craftsmanship, serve as the crowning jewels of this remarkable development. They not only connect different sections of the community but also provide residents and visitors with a visual feast of architectural splendor. Each bridge showcases a distinct style, combining elements of classical elegance and modern flair. From arched structures to sleek lines, the bridges embody the essence of sophistication.
Boca Bridges is not only defined by its stunning bridges but also by its exceptional array of amenities. The sprawling clubhouse, a hub of activity and relaxation, offers residents a sanctuary to unwind and engage in various recreational pursuits. The state-of-the-art fitness center caters to fitness enthusiasts, while the resort-style swimming pool provides a refreshing oasis for relaxation. The full-service spa indulges residents in pampering treatments, ensuring a holistic approach to well-being.
Tennis "friendly"
Tennis enthusiasts can enjoy friendly matches on the community's tennis courts, while nature lovers can explore the beautifully landscaped walking trails that wind their way through the neighborhood. Serene park areas invite residents to immerse themselves in the tranquility of nature, providing a welcome respite from the hustle and bustle of everyday life. The children's playground offers a safe and engaging space for young ones to unleash their energy and foster connections with other children in the community. Check also Boca Raton living in southern Florida.
The residences at Boca Bridges embody the epitome of luxurious living. Designed with meticulous attention to detail, these homes are a harmonious blend of elegance and functionality. The diverse range of floor plans accommodates various lifestyles and preferences, catering to the unique needs of individuals and families. Whether it's a single-family home or a townhouse, each residence is a testament to superior craftsmanship and exquisite finishes.
Great place to call a home in Boca Raton
Step inside these homes, and you'll be greeted by open-concept layouts that promote seamless flow and an abundance of natural light. The carefully curated interiors boast top-of-the-line appliances, high-end finishes, and tasteful fixtures. From gourmet kitchens equipped with state-of-the-art appliances to lavish bathrooms adorned with premium materials, every element of these residences is designed to create an atmosphere of refined luxury.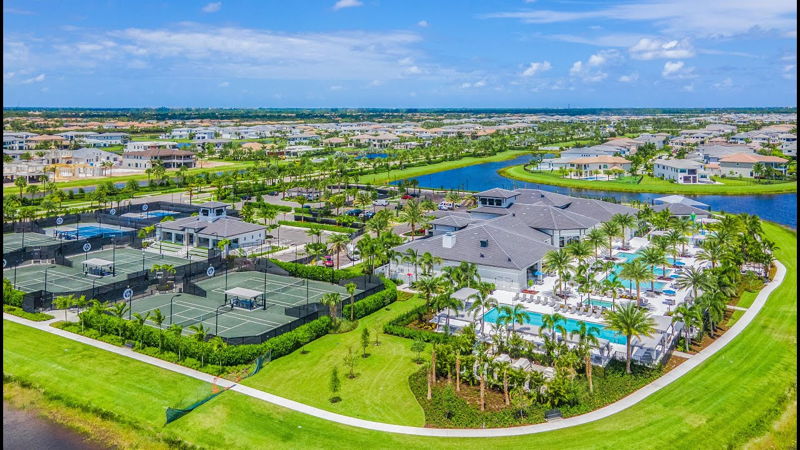 The rental market within Boca Bridges has experienced significant growth due to the community's allure and the exceptional amenities it offers. With its prime location in Boca Raton, residents enjoy easy access to the city's vibrant downtown, pristine beaches, and world-class golf courses. This has contributed to a strong demand for rental properties within the community, both from long-term residents and seasonal visitors.
Investing in rental properties within Boca Bridges presents a compelling opportunity for investors and homeowners alike. The community's reputation for luxury living and its high-demand location translate into attractive rental yields and low vacancy rates. The combination of a thriving rental market and the allure of Boca Raton as a sought-after destination ensures a steady stream of potential tenants.
Visionary development in southern Florida
Boca Bridges is a testament to the grandeur and elegance that can be achieved through visionary development. From its iconic bridges to its luxurious amenities and exceptional residences, the community encapsulates the epitome of refined living. With its thriving rental market, Boca Bridges continues to attract discerning individuals who seek a lifestyle that harmonizes sophistication, convenience, and natural beauty. This development stands as a shining example of what can be accomplished when meticulous craftsmanship, thoughtful design, and an unwavering commitment to excellence converge in a single endeavor.
---
Location of Boca Bridges. Why is worth to buy a house here
Location plays a pivotal role in the desirability and value of a residential development, and Boca Bridges boasts an exceptional location that adds to its allure and makes it worth considering for homeownership. Situated in Boca Raton, Florida, Boca Bridges enjoys a prime position in one of the most coveted areas along the southeast coast of the United States. Here are some key reasons why buying a house in Boca Bridges is a wise investment:
Prime South Florida Location: Boca Raton is renowned for its idyllic climate, stunning beaches, and vibrant lifestyle. It offers residents the perfect blend of tranquility and urban amenities. Located in Palm Beach County, Boca Raton is just a short drive away from major metropolitan areas like Miami and Fort Lauderdale, ensuring easy access to a wide range of cultural, entertainment, and business opportunities.

Proximity to World-Class Amenities: Boca Bridges is nestled in close proximity to a wealth of amenities that cater to every need and desire. Within a short distance, residents can enjoy upscale shopping at destinations like Town Center at Boca Raton, Mizner Park in Boca Raton, featuring luxury brands and fine dining establishments. The area is also home to numerous gourmet restaurants, art galleries, museums, and theaters, ensuring an enriching cultural experience.

Outdoor Recreation Opportunities: Nature lovers and outdoor enthusiasts will find ample opportunities to explore and indulge in their favorite activities. Boca Raton offers an abundance of parks, nature preserves, and golf courses, including the world-renowned Boca Raton Resort & Club. The beautiful beaches along the Atlantic coastline provide a picturesque backdrop for sunbathing, water sports, and leisurely walks along the shore.

Educational Excellence: Boca Raton is known for its exceptional educational institutions, making it an ideal location for families with school-age children. The area boasts top-rated public and private schools, renowned universities, and specialized educational programs. The presence of prestigious educational options ensures that residents have access to high-quality education and a strong foundation for their children's future.

Thriving Business Environment: Boca Raton is not only a residential haven but also a thriving business hub. The area is home to a diverse range of industries, including finance, technology, healthcare, and tourism. This creates ample employment opportunities and fosters a strong economic environment, making Boca Raton an attractive place to live for professionals and entrepreneurs.

Gated Community Security: Boca Bridges provides a secure and gated living environment. With controlled access points and 24/7 security, residents can enjoy peace of mind knowing that their safety and privacy are paramount. This level of security is particularly appealing to those seeking a tranquil and exclusive residential experience.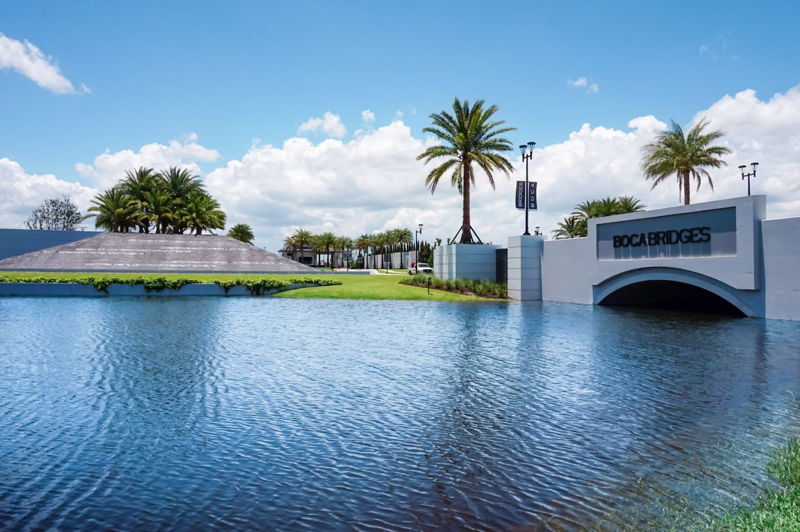 Luxurious Lifestyle: Boca Bridges is designed to offer residents a luxurious and pampered lifestyle. The development's exceptional amenities, including the expansive clubhouse, resort-style pool, and spa, provide residents with a resort-like experience within their own community. The meticulously crafted residences boast high-end finishes and top-of-the-line appliances, ensuring a living environment characterized by opulence and comfort.
Location of Boca Bridges in Boca Raton, Florida, is a key factor contributing to its desirability and worth as a place to buy a house. Its prime South Florida location, proximity to world-class amenities, outdoor recreation opportunities, educational excellence, thriving business environment, gated community security, and luxurious lifestyle all combine to create an enticing and highly sought-after living experience. By investing in a house in Boca Bridges, residents not only gain access to a remarkable community but also become part of a vibrant and dynamic city that offers a high quality of life and a wealth of opportunities.
---
Schools near Boca Bridges
Boca Bridges benefits from its location in Boca Raton, a city known for its exceptional educational opportunities. Families residing in this prestigious community have access to a range of top-rated public and private schools, ensuring that children receive a quality education. Here are some notable schools in the vicinity of Boca Bridges:
Calusa Elementary School: Located just a short distance from Boca Bridges, Calusa Elementary School is a highly regarded public school in the area. It is known for its rigorous academic programs, dedicated teachers, and strong community involvement. Calusa Elementary School offers a comprehensive curriculum and a variety of extracurricular activities to enhance students' learning experiences.

Omni Middle School: As a public middle school located nearby, Omni Middle School offers an enriching educational environment for students in grades 6 to 8. The school focuses on fostering academic excellence, providing a range of advanced coursework, and encouraging student involvement in extracurricular activities such as sports, clubs, and community service.

Spanish River Community High School: Recognized for its academic rigor and diverse opportunities, Spanish River Community High School is a highly regarded public high school serving students in grades 9 to 12. The school offers a wide array of Advanced Placement (AP) and Honors courses, as well as a comprehensive range of extracurricular activities, including athletics, arts, and clubs. Spanish River Community High School prepares students for higher education and future career success.

Saint Andrew's School: Located in Boca Raton, Saint Andrew's School is a prestigious private school offering a comprehensive educational experience from pre-kindergarten to grade 12. The school emphasizes rigorous academics, character development, and a commitment to community service. Saint Andrew's School provides a range of programs, including Advanced Placement (AP) and International Baccalaureate (IB), along with exceptional facilities for sports, arts, and extracurricular activities.

Pine Crest School: Pine Crest School, a renowned private school with a campus in Boca Raton, is known for its academic excellence and comprehensive college preparatory programs. Serving students from pre-kindergarten through grade 12, Pine Crest School offers a challenging curriculum, exceptional faculty, and a wide range of extracurricular activities, including arts, athletics, and community service opportunities.

American Heritage School: Located a short distance from Boca Bridges, American Heritage School is a prestigious private school providing a well-rounded education from pre-kindergarten through grade 12. The school is recognized for its strong academics, emphasis on character development, and extensive extracurricular offerings. American Heritage School boasts a diverse range of programs, including Advanced Placement (AP) courses, competitive sports teams, performing arts, and various clubs and organizations.
These are just a few examples of the exceptional educational options available near Boca Bridges. The area is known for its commitment to academic excellence, providing families with a range of choices to ensure their children receive a quality education in a nurturing environment.
Buy a house in Boca Bridges with us
Do you want to buy a house on Boca Bridges? Call us or write to us. Contact us.