Hibiscus Island properties in Miami
Hibiscus Island properties in Miami. Luxury area to buy and own property in Miami area. Before you start your property search in Hibiscus Island is good to know more details about this Miami location. Nestled amidst the sparkling waters of Biscayne Bay, lies a hidden gem that epitomizes the essence of luxury living - Hibiscus Island. With its pristine beaches, picturesque landscapes, and an exclusive collection of properties, this enchanting island has become synonymous with sophistication, tranquility, and unparalleled opulence. Allow yourself to be captivated by the allure of Hibiscus Island, as we delve into the stunning properties and vibrant lifestyle that await you in this remarkable Miami haven.
Property Hibiscus Island Miami
As you set foot on Hibiscus Island, you are greeted by a tropical paradise boasting panoramic views and an idyllic climate. The island's real estate market showcases an exceptional selection of luxury homes, each embodying the epitome of elegance and modern design. From contemporary architectural masterpieces to Mediterranean-inspired villas, Hibiscus Island offers a diverse range of opulent residences that cater to the most discerning tastes.
Search for Hibiscus Island Miami properties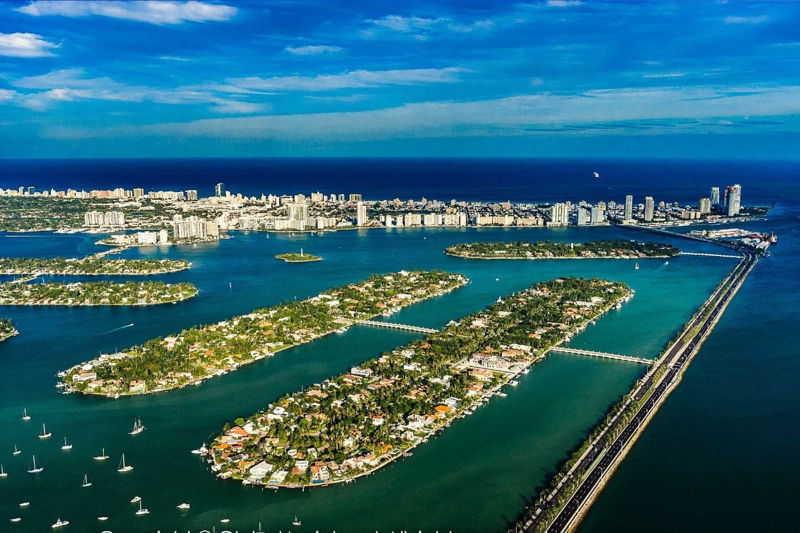 Expansive waterfront estates adorned with private docks and lavish infinity pools redefine the concept of waterfront living. Imagine waking up to breathtaking sunrises over Biscayne Bay, with your own slice of paradise just steps away. The island's strategic location ensures residents have easy access to the vibrant energy of downtown Miami while enjoying a serene retreat within the island's gated community.
The jewel of Miami beaches: South Beach
Beyond the confines of Hibiscus Island, the island's close proximity to the iconic South Beach adds another layer of allure to this sought-after enclave. South Beach, known for its vibrant nightlife, art deco architecture, and world-renowned dining scene, offers residents an opportunity to immerse themselves in a cultural haven. Spend your days basking in the sun on the renowned sandy shores of Miami Beach, or take a leisurely stroll along Ocean Drive, where pastel-hued buildings create an enchanting backdrop.
Hibiscus Island also provides seamless access to the prestigious neighborhood of Star Island, home to A-list celebrities and prominent figures. The grandeur of this exclusive urbanization adds to the allure of Hibiscus Island, placing it at the pinnacle of Miami's most desirable locations.
The rich tapestry of amenities
Residents of Hibiscus Island enjoy an array of exclusive amenities, catering to every aspect of luxury living. Immerse yourself in a world of leisure and relaxation with private spas in Miami, state-of-the-art fitness centers, and tennis courts at your disposal. Indulge in waterfront dining experiences at top-tier restaurants while enjoying the breathtaking views of the Miami skyline. For those seeking adventure on the open water, take advantage of the island's proximity to prime sailing and yachting destinations.
The magic of Hibiscus Island's community
Hibiscus Island is not just a place; it's a lifestyle that fosters a sense of community and exclusivity. The island's residents form a close-knit network, creating a warm and welcoming environment. Embrace a refined, yet relaxed, atmosphere that allows you to forge lasting connections with like-minded individuals who appreciate the finer things in life.
---
Hibiscus Island stands as a testament to the pinnacle of luxury living in Miami. With its exquisite properties, breathtaking beaches, and unrivaled amenities, this hidden oasis presents a lifestyle of opulence and tranquility. Immerse yourself in the vibrant culture of South Beach, indulge in the finest dining experiences, and revel in the exclusivity of a gated community that boasts the utmost privacy. Discover the magic of Hibiscus Island and unlock a life of elegance, sophistication, and endless possibilities.
---
The most desirable buildings and urbanizations on Hibiscus Island Miami
Where to buy a property in this location? There are a few greal; places on the island worth to looking for MLS property listings in this part of Miami. On Hibiscus Island, Miami, you'll find a selection of highly coveted buildings and urbanizations that epitomize luxury and exclusivity. Here are some of the most desirable ones.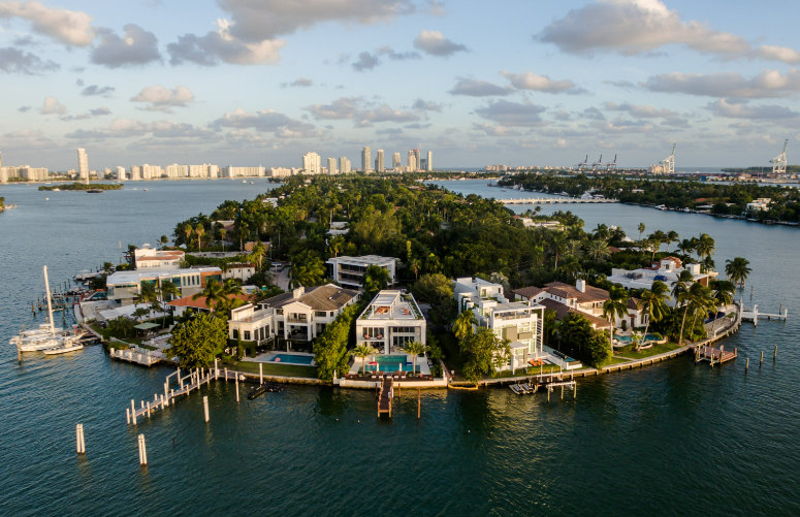 Villa Hibiscus
This luxurious waterfront mansion is a masterpiece of modern architecture, offering stunning views of the bay and Miami's skyline. With its spacious interiors, private dock, and infinity-edge pool, Villa Hibiscus is an epitome of refined living.
Mediterranean-style Estates
Hibiscus Island boasts several Mediterranean-inspired estates that exude timeless elegance. These opulent residences feature grand entrances, lush gardens, and beautifully designed interiors that blend classic charm with contemporary sophistication.
The Belle Estate
Standing as a symbol of opulence, The Belle Estate is a magnificent waterfront mansion that seamlessly combines luxurious living spaces with breathtaking outdoor areas. This exquisite property offers sweeping bay views, meticulously landscaped gardens, and an array of high-end amenities.
Gated Community
Hibiscus Island is known for its exclusive gated community, providing an extra layer of security and privacy. This highly sought-after urbanization is home to a collection of luxurious properties, ensuring a tranquil and prestigious living environment.
Palatial Waterfront Villas
Among the most desirable properties on Hibiscus Island are the palatial waterfront villas. These expansive estates feature private docks, lushly landscaped grounds, and panoramic views of the bay. Impeccable craftsmanship and high-end finishes adorn these residences, offering the ultimate in luxury living.
Hibiscus Island Estates
The Hibiscus Island Estates comprise a collection of custom-built homes that showcase architectural excellence and attention to detail. These prestigious properties are designed to maximize comfort and luxury, with features such as private pools, outdoor entertainment areas, and direct access to the bay.
Modern Masterpieces
Hibiscus Island is also home to a variety of contemporary architectural marvels. These modern masterpieces boast sleek lines, expansive glass walls, and open-concept designs that seamlessly blend indoor and outdoor living spaces. Each property is a work of art, incorporating cutting-edge technology and innovative design elements.
Hibiscus Island in Miami is renowned for its collection of highly desirable buildings and urbanizations, where luxury living reaches new heights. From waterfront mansions and Mediterranean-style estates to gated communities and modern architectural gems, these properties embody sophistication, elegance, and exclusivity. Whether you seek panoramic bay views, private docks, or meticulously designed interiors, Hibiscus Island offers a range of options that cater to the most discerning tastes. Especially if you are looking for luxury property in Florida south east area. Discover the epitome of luxury living in these prestigious buildings and urbanizations, where each residence becomes a sanctuary of refined indulgence.
---
Strategic location and access to Hibiscus Island in Miami
Accessing Hibiscus Island from Miami and other parts of Florida is convenient and seamless, offering various transportation options for residents and visitors. Hibiscus Island benefits from its strategic location, offering convenient access from Miami and other parts of Florida and Miami Dade county. Whether you choose to drive across the causeway, fly into Miami International Airport, arrive at the Port of Miami, or even access the island via water transportation, reaching this exclusive enclave is a seamless experience. The accessibility options ensure that residents and visitors can easily enjoy the luxury and beauty of Hibiscus Island without any inconvenience. Let's delve into the details.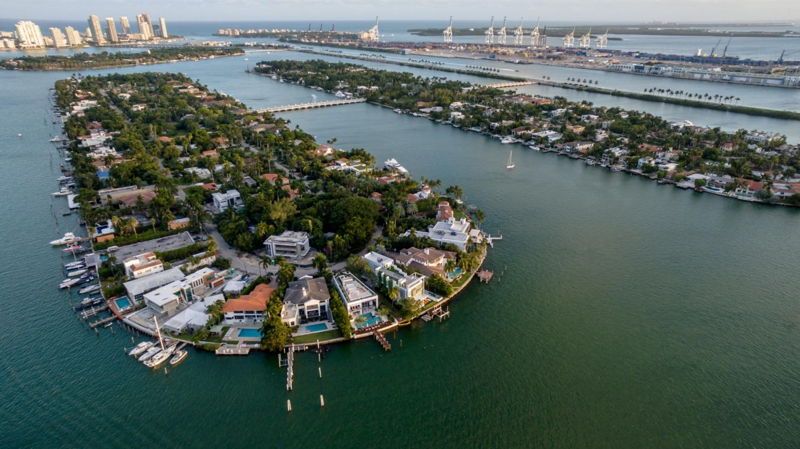 By Road
From Miami: Hibiscus Island is located just a few minutes away from downtown Miami. To reach the island by road, you can drive across the MacArthur Causeway (State Road 836) towards Miami Beach. Take the exit towards Alton Road and continue south until you reach the entrance to Hibiscus Island.
From other parts of Florida: If you are coming from other parts of Florida, major highways such as I-95, I-75, and the Florida Turnpike provide easy access to Miami. Once you reach Miami, follow the directions mentioned above to reach Hibiscus Island.
Miami International Airport
Hibiscus Island is conveniently located approximately 15-20 minutes away from Miami International Airport (MIA). Upon arrival at the airport, you can easily rent a car or hire a private transportation service to reach the island.
Alternatively, various ride-sharing services and taxis are readily available at the airport, offering a hassle-free option to reach your destination on Hibiscus Island.
Port of Miami
If you arrive in Miami via a cruise ship, the Port of Miami is one of the busiest cruise ports in the world. Once your cruise ship docks, you can easily access Hibiscus Island by road, following the directions mentioned above.
Many luxury cruise lines offer private transportation services for their passengers, allowing for a seamless transfer directly to Hibiscus Island.
Water Transportation
Hibiscus Island's location in Biscayne Bay makes it easily accessible by private boats, yachts, and water taxis. The island features private docks and marinas, allowing residents to enjoy the convenience of arriving by water.
Additionally, there are various water taxi services available in Miami, offering transportation to and from Hibiscus Island and other nearby destinations. This provides a scenic and enjoyable mode of travel.
---
Real estate agents on Hibiscus Island Miami
there are several renowned real estate agencies in the Miami area that specialize in luxury properties, including those on Hibiscus Island. Here are a few well-known real estate agencies that you can consider contacting:
Douglas Elliman: Douglas Elliman is a prestigious real estate brokerage known for its expertise in luxury properties. They have a dedicated team of agents who are well-versed in the Miami market and can assist you in finding properties on Hibiscus Island.

Activa Realty Florida: International Real Estate agency serving this area of Miami. Give us a call or set uop appointment with one of our realtors to find your dream home in Hibiscus Island in Miami Florida.

Coldwell Banker Residential Real Estate: Coldwell Banker is a respected real estate agency with a strong presence in Miami. Their agents have extensive knowledge of the local market and can provide guidance in navigating the Hibiscus Island real estate scene.

One Sotheby's International Realty: As part of the renowned Sotheby's International Realty network, One Sotheby's specializes in luxury properties and offers a range of high-end listings, including those on Hibiscus Island. Their agents have a deep understanding of the luxury real estate market and can provide personalized service.

EWM Realty International: EWM Realty International is one of Miami's leading real estate firms, known for its expertise in luxury properties. They have a team of experienced agents who can assist you in finding your dream home on Hibiscus Island.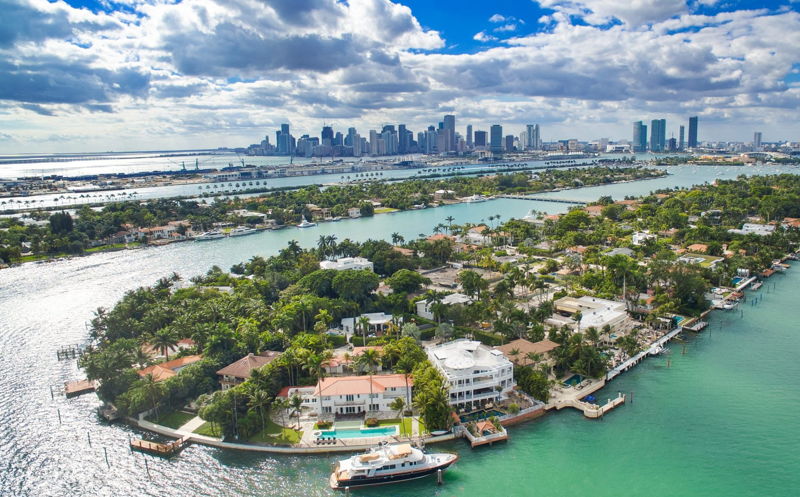 The Jills Zeder Group: The Jills Zeder Group is a highly regarded real estate team specializing in luxury properties in South Florida. With their extensive experience and market knowledge, they can provide personalized service to help you find properties on Hibiscus Island.
When selecting a real estate agent, it's important to conduct your own research, read reviews, and reach out to multiple agents to find someone who understands your specific needs and preferences. These agencies are a good starting point for finding reputable real estate professionals who can guide you through the process of buying or selling property on Hibiscus Island in Miami.