Miami Dade county map
Miami Dade county map Florida. All locations, towns, villages and urbanizations important for property search in the area of south east Florida. Find your dream home and search for property in Florida with our real estate agency located in Florida south east. We are Activa Realty real estate agency based in Florida. Contact us and use our realtors and our services to find a luxury house, condo or investment property in Miami Dade county in Florida.
Miami Dade county map
Miami-Dade County, a vibrant and diverse oasis nestled along the southeastern coast of Florida, is a place where dreams come to life. Known for its stunning beaches, thriving cultural scene, and pulsating energy, this county is a captivating canvas waiting to be explored. However, beyond the glitz and glamour lies a lesser-known aspect of Miami-Dade County—the untold stories woven within its very map. Join me on a journey of discovery as we delve into the secrets, hidden gems, and boundless inspiration that lie within the lines and contours of Miami-Dade County's map.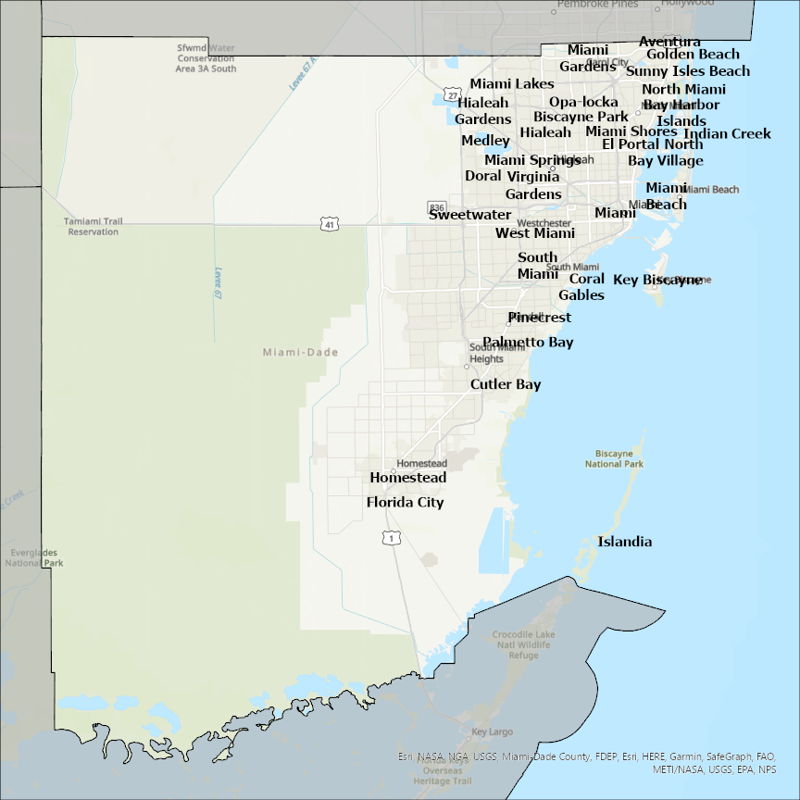 Where is located Miami Dade county on the Florida map
Miami-Dade County, located in the southeastern part of Florida, encompasses a wide range of cities and incorporated villages that contribute to its vibrant and diverse character of this part of Florida reach culture and society. Here is a comprehensive list of cities and incorporated villages within Miami-Dade County.
Cities in Miami Dade county
Miami
Miami Beach
Hialeah
Homestead
Coral Gables
North Miami
Doral
North Miami Beach
Cutler Bay
Aventura
Miami Gardens
Palmetto Bay
Sunny Isles Beach
Miami Lakes
Pinecrest
Opa-locka
Miami Springs
South Miami
Sweetwater
Florida City
West Miami
Bay Harbor Islands
Bal Harbour
Surfside
Biscayne Park
El Portal
Indian Creek
Key Biscayne
Medley
Virginia Gardens
Incorporated Villages
Palmetto Bay
Miami Shores
Village of Pinecrest
---
5 areas in Miami Dade county worth to looking for property
Miami-Dade County is a vibrant and diverse region in Florida, known for its beautiful beaches, lively culture, and thriving real estate market. Miami-Dade County offers a diverse range of properties catering to different preferences, from luxurious waterfront estates to upscale condominiums and charming suburban homes. The region's strong real estate market and desirable lifestyle make it an attractive destination for buyers and investors. Here are five of the most important cities in Miami-Dade County, along with a description of their properties.
Miami
As the county seat and the most populous city in Miami-Dade County, Miami is a major economic and cultural hub. The city offers a wide range of properties, from luxurious waterfront mansions in areas like Miami Beach and Coconut Grove to high-rise condominiums in Downtown Miami. Miami's real estate market is highly sought after by international buyers, attracted by its cosmopolitan lifestyle and excellent investment opportunities.
Search here for new property listings in Miami area
Miami Beach
Situated on a barrier island, Miami Beach is renowned for its stunning beaches, upscale hotels, and vibrant nightlife. This city features a mix of properties, including opulent oceanfront estates, stylish Art Deco condominiums along Ocean Drive, and modern waterfront homes in exclusive neighborhoods like Sunset Islands and Venetian Islands. Many properties in Miami Beach offer breathtaking views of the Atlantic Ocean and access to private docks and beaches.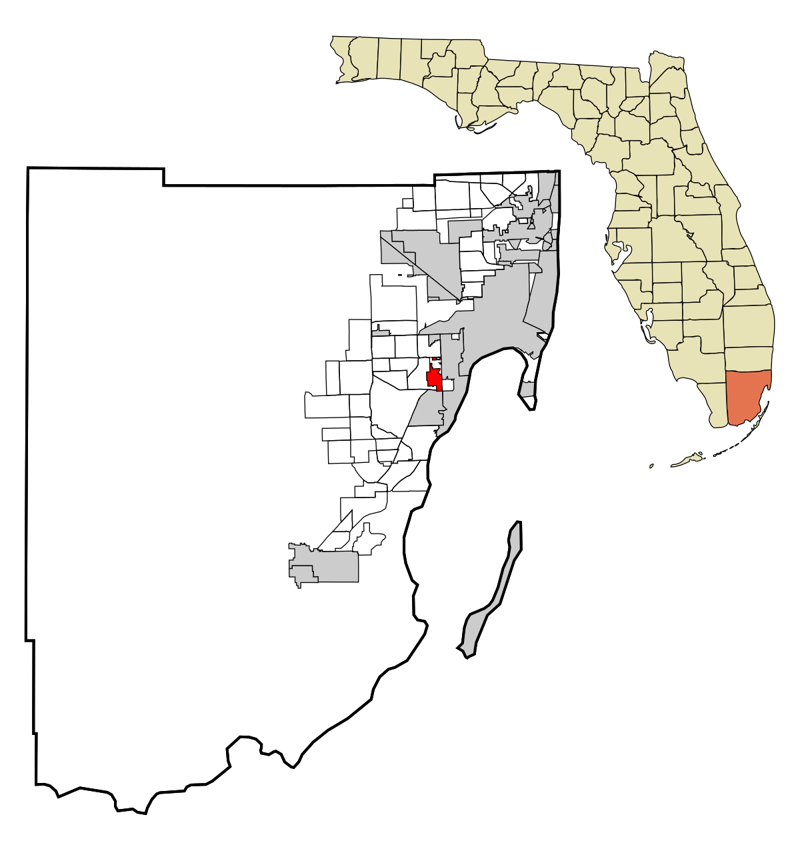 Coral Gables
Known for its elegant Mediterranean Revival architecture, Coral Gables is a meticulously planned city with lush landscapes, tree-lined streets, and a strong emphasis on preserving its historic character. The properties in Coral Gables often feature charming homes with Spanish-style designs, including spacious villas, sprawling estates, and upscale townhouses. This city is also home to the prestigious University of Miami and the renowned Biltmore Hotel.
Key Biscayne
Located on an island off the coast of Miami, Key Biscayne offers a tranquil escape from the bustling city. Properties on Key Biscayne range from luxurious waterfront mansions and condominiums with panoramic views of the ocean to upscale single-family homes nestled in peaceful neighborhoods. The island's natural beauty, pristine beaches, and recreational amenities, such as the Crandon Park Tennis Center and Bill Baggs Cape Florida State Park, make it a desirable place to live.
Aventura
Situated between Miami and Fort Lauderdale, Aventura is a planned suburban city known for its high-end residential communities and upscale shopping destinations like Aventura Mall. Aventura's properties include luxury condominium towers with modern amenities, gated communities with single-family homes, and waterfront properties along the Intracoastal Waterway. The city is also home to the Turnberry Isle Resort and Golf Club, offering an exclusive lifestyle for residents.
---
Real estate market in Miami Dade county
The real estate market in Miami-Dade County is known for its strength, diversity, and international appeal. It's important to note that the real estate market can be influenced by various factors, such as economic conditions, interest rates, and market trends. It's always advisable to consult with local real estate professionals or experts to get the most up-to-date and accurate information regarding the Miami-Dade County real estate market. Here are some key features of the real estate market in Miami-Dade County:
Property Types: Miami-Dade County offers a wide variety of property types to suit different preferences and budgets. These include luxury waterfront homes, high-rise condominiums, single-family houses, townhouses, and apartment complexes. The county's coastal location also makes beachfront properties highly sought after. Check property types in Florida real estate market.

International Appeal: Miami-Dade County has long been a global destination, attracting buyers and investors from around the world. Its favorable climate, vibrant culture, and business opportunities make it an attractive location for international buyers, particularly from Latin America, Europe, and Canada. The international demand for Miami-Dade properties contributes to its robust real estate market. Check international buyers in Florida article.

Luxury Market: Miami-Dade County's luxury real estate market is particularly notable. Areas like Miami Beach, Coral Gables, and Sunny Isles Beach are known for their exclusive properties, featuring high-end amenities, breathtaking views, and access to private beaches, marinas, and golf courses. Luxury condominiums often offer luxurious amenities such as spas, fitness centers, and concierge services. Check also luxury homes market in Florida.

Urban Growth: Downtown Miami and its surrounding areas have experienced significant urban revitalization and development. This has resulted in the construction of numerous high-rise condominiums and mixed-use developments. Downtown Miami has become a thriving hub for business, entertainment, and upscale living, attracting young professionals and urban dwellers.

Rental Market: Miami-Dade County has a strong rental market due to its popularity as a vacation and seasonal destination. Many property owners take advantage of the high demand for short-term rentals, especially in areas like Miami Beach and Brickell. Long-term rentals are also in demand, driven by the county's growing population and workforce.

Real Estate Investment: Miami-Dade County offers attractive investment opportunities, with the potential for appreciation and rental income. Investors can find opportunities in both residential and commercial properties. The county's status as a global city with a diverse economy, including sectors like finance, tourism, and technology, contributes to its investment appeal.

Development Projects: Miami-Dade County continues to see ongoing development projects, with new residential and commercial developments transforming the skyline and enhancing the urban landscape. These projects contribute to the growth and vitality of the real estate market, providing additional options for buyers, renters, and investors.
---
Search for new developments in south east Florida area
---
Miami Dade county in compare to other counties in Florida
Miami-Dade County, located in Southeast Florida, is unique and distinct from other counties in the state. Miami-Dade County stands out in Florida for its global prominence, multicultural environment, and thriving real estate market. It offers a unique blend of urban sophistication, beautiful beaches, and a diverse population, making it a magnet for residents, tourists, and investors alike. Here's a comparison of Miami-Dade County to other counties in Florida.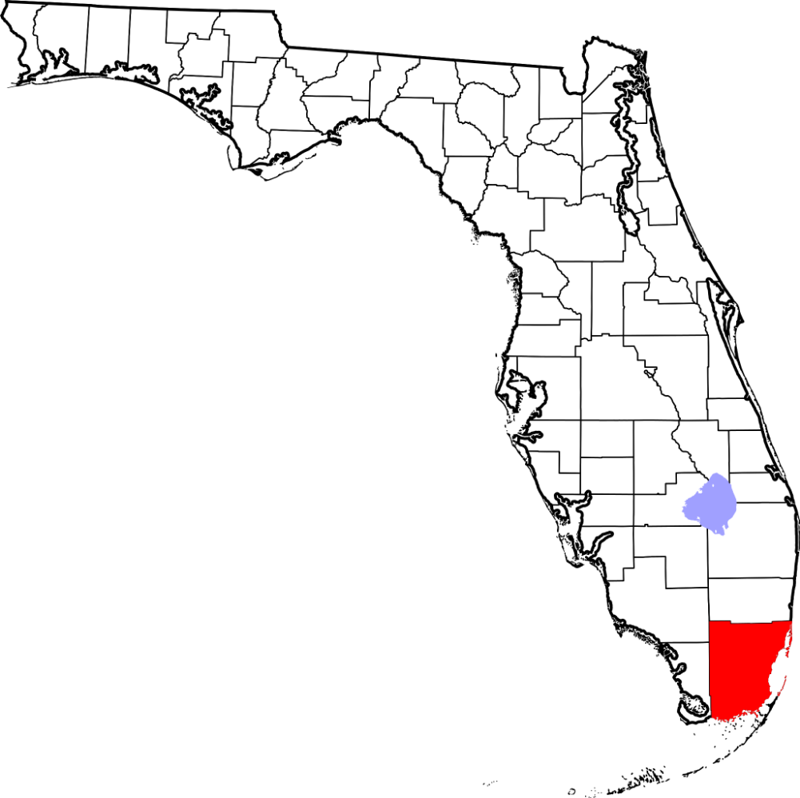 Broward County
Broward County, situated just north of Miami-Dade County, shares many similarities with its southern neighbor. Both counties have a diverse population, beautiful beaches, and a vibrant cultural scene. However, Miami-Dade County is generally larger and more populous, with a higher concentration of urban development and a more internationally recognized reputation. Miami-Dade County is known for its thriving real estate market, cosmopolitan lifestyle, and status as a global hub for finance, commerce, and tourism.
Palm Beach County
Palm Beach County, located just north of Broward County, differs from Miami-Dade County in several ways. While Miami-Dade County is known for its urban environment and bustling city life, Palm Beach County offers a more upscale and exclusive atmosphere. Palm Beach County is renowned for its affluent communities, luxurious resorts, and world-class golf courses. It attracts wealthy individuals, retirees, and celebrities seeking a more serene and private lifestyle compared to the cosmopolitan energy of Miami-Dade County. Check here Palm Beach county map for property MLS search.
Orange County
Orange County, situated in Central Florida, is home to the city of Orlando and some of the state's most popular tourist attractions, including Walt Disney World Resort and Universal Orlando Resort. Unlike Miami-Dade County, which is predominantly known for its coastal lifestyle and international appeal, Orange County is renowned for its family-friendly entertainment options and theme parks. The real estate market in Orange County is influenced by its strong tourism industry, with properties ranging from vacation homes and short-term rental properties to residential communities catering to local residents.
Hillsborough County
Hillsborough County, located on the Gulf Coast of Florida, encompasses the city of Tampa and is known for its mix of urban amenities, suburban neighborhoods, and natural landscapes. While Miami-Dade County has a more prominent international profile and a larger population, Hillsborough County offers a more laid-back and community-oriented lifestyle. The county has a diverse range of properties, including waterfront homes along Tampa Bay, gated communities, and suburban neighborhoods. The real estate market in Hillsborough County is influenced by its economic growth, employment opportunities, and access to outdoor recreational activities.